Gifted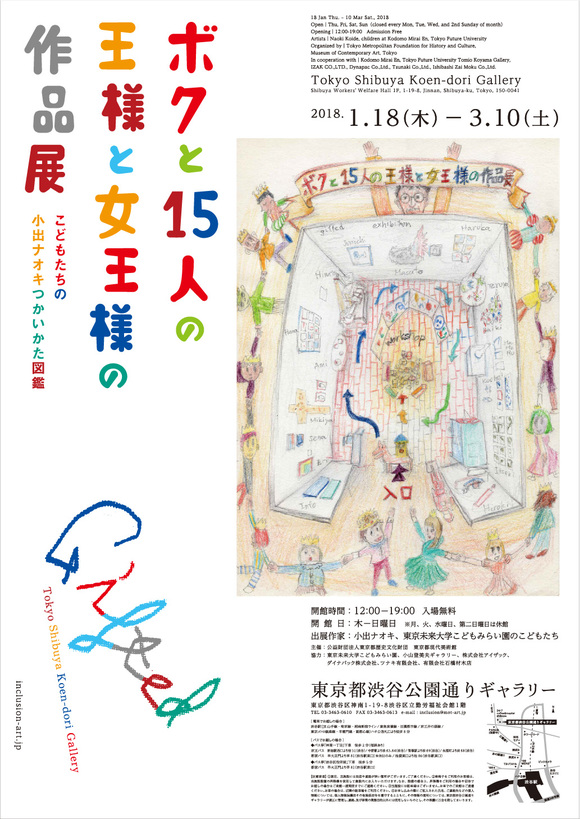 Exhibition Overview
| | |
| --- | --- |
| Title | Gifted |
| Period | Thursday, 18 January – Saturday, 10 March 2018 |
| Opening Hours | 12:00-19:00 |
| Closed | every Mon, Tue, Wed, and 2nd Sunday of month |
| Venue | Tokyo Shibuya Koen-dori Gallery |
| Admission | Free |
| Organized by | Tokyo Metropolitan Foundation for History and Culture, Museum of Contemporary Art, Tokyo |
| In cooperation with | Kodomo Mirai En, Tokyo Future University, Tomio Koyama Gallery,IZAK CO.,LTD., Dynapac Co.,Ltd., Tsunaki CO.,LTD., Ishibashi Zai Moku CO.,LTD. |
| Artists | Naoki Koide, children at Kodomo Mirai En, Tokyo Future University |
download leaflet
Naoki Koide, a sculptor, has built a place for children to enrich their creativity at Kodomo Mirai En's art class. Just as Koide usually produces his artwork made of a wide range of materials, he encourages children to use media such as clay, pencils and soil as well as Koide himself to boost their spontaneity. Koide and each child interact each other in creative moments for pursuing their own imagination and interests.
This exhibition will trace a process of how 15 children were served by Koide=artist and expand each of their own creativity.
Artist
Naoki Koide
Born in 1968 in Aichi, graduated from Tokyo Zokei University in 1992.
Visualizing his ideal family and fantastic creatures made of various materials such as wood, ceramic and FRP, Koide internationally draws attentions. He also works for an art class at Kodomo Mirai En. Major exhibitions "Read Me a Story Daddy" (Tomio Koyama Gallery, 2013), "Takahashi Collection 2014 Mindfulness!" (Nagoya City Art Museum, 2014) and so on.
Tokyo Future University Kodomo Mirai En: school for children having developmental disorders and difficulties in communication. A number of courses such as IT, English and exercise are set to nurture each child's own characteristics.
Related Event
小出ナオキのつかいかたワークショップ ラクガキ編
Period

Sunday, 21 January 2018 / Sunday, 25 February

Venue

Tokyo Shibuya Koen-dori Gallery

Admission

Free
小出ナオキのつかいかたワークショップ ツミキ編
Period

Sunday, 28 January 2018 / Sunday, 4 March

Venue

Tokyo Shibuya Koen-dori Gallery

Admission

Free
トーク
「Gifted -アート室のこどもたちを起点に-」
Period

Sunday, 4 February 2018

Venue

Tokyo Shibuya Koen-dori Gallery

Admission

Free
アーティストトーク
Period

Sunday, 18 February 2018

Venue

Tokyo Shibuya Koen-dori Gallery

Admission

Free