The "Kids meet" series of children's programs creates opportunities for children of diverse backgrounds to meet by change, encounter things they could never have imagined, and talk to each other through art experiences. Our aims are for these experiences to broaden the way children see the world and expand their worlds, and to draw out in the children a rich imagination that respects diverse values.
This event is part of the "Kids meet" program that creates opportunities for children from diverse backgrounds to encounter serendipitous and unimaginable things through experiencing art, and to engage in dialogue. For the program's second session, two instructors—Kojima Hijiri and Hiramatsu Asa from "Omoitsuki no KOE to IRO"—will collaboratively create and perform a picture-story show with participants, combining a story especially written for the workshop with children's drawings.
Title
Kids meet 02 "Omoitsuki no KOE to IRO"
Date and time
Saturday, 4 June ①Morning part:10:30-12:30 ②Afternoon part:14:30-16:30
Sunday, 5 June ③Morning part:10:30-12:30 ④Afternoon part:14:30-16:30

June 4 (Sat) morning and afternoon parts, June 5 (Sun) morning part are now closed.
Venue
Tokyo Shibuya Koen-dori Gallery, Interactive Space
Target
Over the age of elementary school students  *Open to people of all abilities.

Capacity
5 children in each time
Sunday, June 5, Afternoon part: 3 additional participants required
Artists
Omoitsuki no KOE to IRO (KOJIMA Hijiri, HIRAMATU Asa)

Admission
Free

Things to bring

beverage, towel, spare clothes (clothes you don't mind getting dirty), face mask

Notices
Participating children will together present the picture-story show they create in the workshop. The presentation will be filmed and subsequently shown in an exhibition starting from July 9, 2022, and on the gallery's social media(Twitter, Instagram, YouTube, etc.)as well as the artists' social media. Please be aware that we will take photographs and film the workshop for the purposes of documentation.

The workshop may change to an online format, depending on the situation with the coronavirus.

Application period
Monday, 2 May - Monday, 16 May (tentative)
In case of a large number of applicants it will be a lottery.

order of arrival
How to apply
Please fill out the booking form.
Patron information provided on the booking page is protected with SSL encrypted communications.
Handling of personal information: Any personal information obtained through the Gallery website will be used in accordance with the Foundation's privacy policy.


Inquiry
Tokyo Shibuya Koen-dori Gallery, Kids meet section
Email: skdg-event2022(at) mot-art.jp * Please change (at) to @.
Tel: 03-5422-3151

Artists


Omoitsuki no KOE to IRO

"Omoitsuki no KOE to IRO" started spontaneously.
The time it takes to keep an idea in your mind and shape it by adding voices and colors is filled with excitement.
The process of creating is the most precious time.
Sometimes alone, sometimes as a pair, sometimes with everybody.
It is a laboratory of voices and colors initiated by Kojima Hijiri and Hiramatsu Asa.
Mainly using the format of the kamishibai picture-story show, they present works irregularly and spontaneously.
KOJIMA Hijiri (actor)
Born in Tokyo. Alongside her regular appearances in films, Kojima Hijiri has also received acclaim recently as a stage actor and performed in many plays by high-profile directors, developing new appeal as an actor. She is the author of Wild Berry Jam (2018, Seigensha).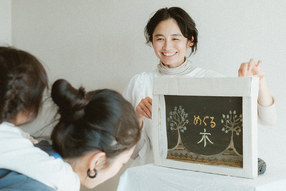 HIRAMATSU Asa (painter)
Born in Tokyo. Mainly working with oil painting, Hiramatsu Asa presents her artworks at exhibitions. She paints the landscapes that exist inside her, depicting mindscapes through the motif of clouds. Hiramatsu also writes for and illustrates magazines and books.