HOME >
Archives >
ara mahoshiArt, anything to access a world
ara mahoshi
Art, anything to access a world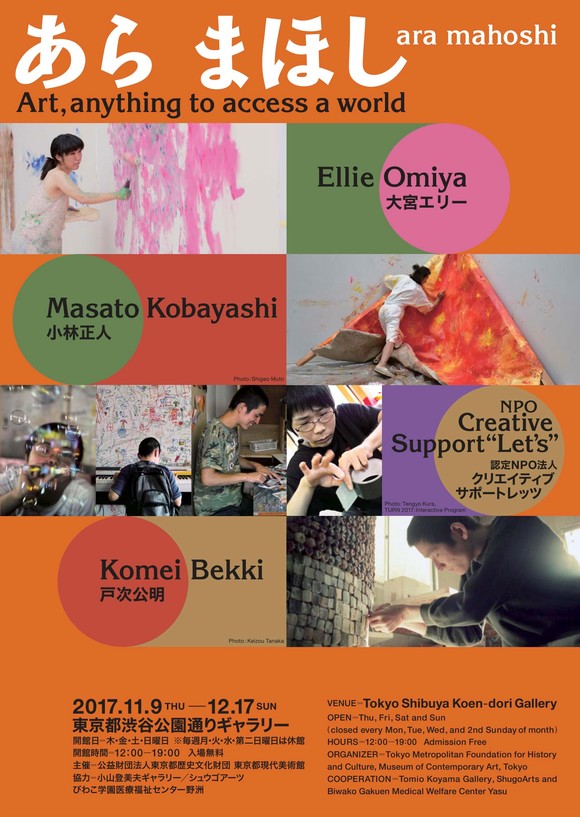 Exhibition Overview
| | |
| --- | --- |
| Title | ara mahoshi Art, anything to access a world |
| Period | Thursday, 9 November-Sunday, 17 December 2017 |
| Opening Hours | 12:00 – 19:00 |
| Closed | every Mon, Tue, Wed, and second Sunday |
| Venue | Tokyo Shibuya Koen-dori Gallery |
| Admission | Free |
| Organized by | Tokyo Metropolitan Foundation for History and Culture, Museum of Contemporary Art, Tokyo |
| Cooperation | Tomio Koyama Gallery, ShugoArts, Biwako Gakuen Medical Welfare Center Yasu |
| Artists | Ellie Omiya, Masato Kobayashi, Non-Profit Organization Creative Support Lets, Komei Bekki |
download leaflet
Nowadays, we tend to categorize things in everyday life to make them easier to understand. But often the things we encounter defy categorization and confuse our feelings. To take things just as they are, accepting beauty as beauty, ugliness as ugliness and chaos as chaos, helps us understand the world and enables us to go deeper into the heart of things with greater speed.

The exhibition "ara mahoshi" celebrates diversity. The word aramahoshi ("May it be so") is formed of "ara" (existence) and "mahoshi" (wish). The blank space interposed in the title indicates the diversity of everyone's wish for existence. When we recognize that all people have need to express, we will see that expression and life are inseparably related. The artworks and events of "ara mahoshi" are diverse expressions of life. It is hoped that each viewer, in experiencing them, will be moved to feel his or her own expressive existence.
Artists
Ellie Omiya
Based in Tokyo
Omiya started her career as a painter in 2012 while working in various creative fields as a writer, screen writer, TV producer and stage director. Since then, she has pursued her passion for painting and undertaken live painting performances with musicians. Recent solo exhibition: "Sincerely Yours, Ellie Omiya" (Towada Art Center and Centaral Towada, Aomori, 2016)
Masato Kobayashi
Based in Tokyo, Fukuyama (Hiroshima)
As a painter, Kobayashi has kept searching for new ideas for painting, trying to be completely free from stereotypes. After moving to Belgium in 1997 and working in various places, he returned to Japan in 2006.
Public collection: S.M.A.K. Museum of Contemporary Art, Ghent(Belgium), Seazon Museum of Modern Art (Karuizawa), Takahashi Collection (Tokyo) and The National Museum of Modern Art, Tokyo etc.
Non-Profit Organization Creative Support "Let's"
Based in Hamamatsu (Shizuoka)
Through their motto "From 'as it should be' to 'as it is'", Creative Support "Let's" provides places for people to appreciate their differences. The organization runs the privately operated community center "Nova Komin-kan" and a welfare service facility for challenged people "Ars Nova". Their activities have made an impact on conventional frameworks in society, not only in the field of welfare but also in art.
Komei Bekki
Based in Yasu (Shiga)
Sensitively capturing all things from the external environment, such as people, wind and rain, Bekki had difficulties controlling his acute sensitivity. Since Daini Biwako Gakuen, a medical welfare center where Bekki has been staying, opened a clay room in 1979, he started playing with clay. His thoughts and feelings at his own moments are reflected into his "play" with clay.
Related Event
オープニング・トーク
Period

Saturday, 18 November 2017

Venue

Tokyo Shibuya Koen-dori Gallery

Admission

Free
シンポジウム
「生きるとアート〜障害福祉の現場から文化を考える〜」(コーディネート by クリエイティブサポートレッツ)
Period

Friday, 15 December 2017

Venue

Tokyo Shibuya Koen-dori Gallery

Admission

Free
Period

Sunday, 17 December 2017

Venue

Tokyo Shibuya Koen-dori Gallery

Admission

Free
Period

Friday, 22 December 2017

Venue

Tokyo Shibuya Koen-dori Gallery

Admission

Free
参加型イベント
「レッツがやって来るヤァ!ヤァ!ヤァ!」
Period

Thursday, 23 November 2017 / Sunday, 3 December

Venue

Tokyo Shibuya Koen-dori Gallery

Admission

Free