Trans-PortⅠ
Fertile Differences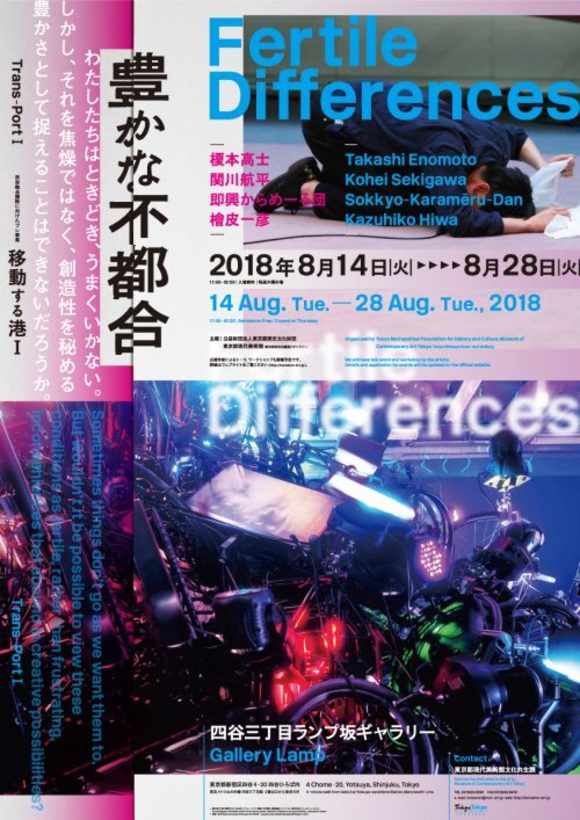 Exhibition Overview
Title
Trans-PortⅠ: Fertile Differences
Period
Tuesday, 14 August –Tuesday, 28 August 2018 

Opening Hours
11:00 - 18:00
Closed
Thursday
Venue
Gallery Lamp
4 Chome−20, Yotsuya, Shinjuku, Tokyo

Admission
Free
Organized by
Tokyo Shibuya Koen-dori Gallery (Tokyo Metropolitan Foundation for History and Culture, Museum of Contemporary Art Tokyo)
Artists
Takashi Enomoto, Kohei Sekigawa, Sokkyo-Karameru-Dan, Kazuhiko Hiwa
Download leaflet
Download leaflet
Sometimes things don't go as we want them to.
Sometimes, it's all about physical and you simply cannot whistle, or wink; some other times, it's about difficulty in verbal communication where your use of just one word too many or too less may lead to unexpected misunderstandings; it may also be about your susceptible mind easily affected by trifles; or about elusive thoughts and feelings of others that frustratingly hard to sense.
Inability to regulate our own bodies/minds and uncertainty about other people's thoughts and physical sensations. These kinds of uncontrollability are commonly seen in ourselves and our relationships to others, and in fact, can be experienced more or less by anybody whether they have a particular disability or not. Such individual differences may be noticed simply as inconvenient conditions in a uniformed society of ours today. But wouldn't it be possible to view these conditions as fertile, rather than frustrating, inconveniences that abound in creative possibilities? In this exhibition we will seek the quality of "situations where things don't go well" found in ourselves, others, and in our relation to them, with the works by four aspiring artists who have been facing squarely at themselves and others in their own unique ways in the light of relationships. We hope you will enjoy these exhibits as they open up possibilities of our being ourselves and our relation to somebody who is pinpointedly local, but also too universal to ignore, expressed with artists' keen insights in a merry, light-hearted air about them.
Artists
Takashi Enomoto
Born in 1985.
Enomoto initially joined YAMANAMI as cleaning staff in 2004 but started drawing with crayons and acrylic paints around 2014. Repetition of short strokes and composition using calm colors are his signature style. Enomoto creates his art pieces in the studio sharing with others the gentle rhythm flowing in the serenity. Recent exhibition: "Art Brut? Outsider art? Or…? Inherent Creativity," EYE OF GYRE, Tokyo, 2017.
Kohei Sekigawa
Born in 1990.
Sekigawa focuses on conveyance of meaning through various forms of artwork such as performance, installation and illustration. Recent exhibitions: "figure/out," Guardian Garden, Tokyo, 2017; "Travelers: Stepping into the Unknown," The National Museum of Art, Osaka, 2018; "Immersed Identity/Drifting poetry," Yokohama Shimin Gallery, Kanagawa; "BankART Life V – Kanko (Sightseeing)," BankART NYK, Kanagawa, 2017.
Sokkyo-Karameru-Dan
A unit of Miki Akahane, musician, and Keiko Masaki, percussionist. Starting an artistic career in 2006, they have since pursued their passion not only for composing and organizing workshops but also for playing the musical instruments. They run an interactive project "Uta-no-Sumu-Ie Project" with an aim to create songs that could only be made in cooperation with all the participants at the venue.
Kazuhiko Hiwa
Hiwa incorporates motifs of wheelchairs, which he also uses, and body/organs into a wide range of his works including sculptures and installations. Recently he is also producing video pieces where he plays a role himself. While his rhythmical and humorous style stimulates viewers' intuition, it reveals stereotyped images of human bodies. Recent exhibitions: "inner space colony," ARTZONE, Kyoto, 2017; "Shin-ko-kyu," Itamigo-cho-kan, Hyogo,2017; "New Organics," Kyoto University of Art and Design, Kyoto,2016.
About "Trans-Port"
Section for Inclusion in the Arts, Museum of Contemporary Art Tokyo, pursues a way to increase diversity in the society through art in cooperation with Tokyo Metropolitan Government. With opening of "Tokyo Shibuya Koen-dori Gallery" in Jinnan Shibuya in 2017, we held two exhibitions. The gallery is currently under renovations and will reopen in 2019.
There are a variety of art projects standing by in our everyday life and social connections today especially in the field of welfare and local communities. Under compelling circumstances in order to establish a solid social system to accommodate various value systems and life styles, the frontline of the art world is also making attempts in many ways to overcome the challenges. The gallery has been preparing for its renewal opening to participate in this initiative, too.
Prior to the renewal opening, the gallery will hold three exhibitions across Tokyo as a project "Trans-Port" throughout this year. As many ships come in from various sites and keep exchanging diverse cultures at a port, the objective of this project is to provide opportunities for everyone to meet many different types of expression and people. Details for the exhibitions will be announced on the official website.
Access
Gallery Lamp
4 Chome−20, Yotsuya, Shinjuku, Tokyo

5-minute walk from Gate 2 at Yotsuya-sanchōme Station, Marunouchi-Line
Related Event
Workshop by Kohei Sekigawa
Period

Saturday, 18 August 2018

Venue

Gallery Lamp

Admission

Free
A workshop to talk about what we see and we don't see.
Workshop by Sokkyo-Karame(-)ru-Dan
Period

Sunday, 19 August 2018

Venue

Gallery Lamp

Admission

Free
A workshop to make a song with Sokkyo-Karameiru-Dan. No skills for writing lyrics or playing the musical instruments is needed. Anybody is welcome.
Artist talk
Period

Tuesday, 28 August 2018

Venue

Gallery Lamp

Admission

Free
Talk session by the artists on their artwork and about fruitfulness of inconvenience.