TOP >
이벤트 >
Mitsushima Takayuki Residency and Exhibition: GOING OVER—Touching the Texture of the City
Interactive program
Mitsushima Takayuki Residency and Exhibition
GOING OVER—Touching the Texture of the City
Open studio
Exhibitions
Interactive Space

Title
Mitsushima Takayuki Residency and Exhibition: GOING OVER—Touching the Texture of the City
Period
Tuesday, 9 August to Sunday, 25 September
The Residency Periods
Tuesday, 9 August-Thursday, 11 August
Tuesday, 16 August-Thursday, 18 August
Tuesday, 23 August-Thursday, 25 August
※No general admission during the residency periods.
※Please note that the artist may be unavailable during certain times.
The Open-House Periods
Friday, 12 August-Sunday, 14 August
Friday, 19 August- Sunday, 21 August
Friday, 26 August-Sunday, 25 September

Opening hours
11:00-18:00
Venue
Tokyo Shibuya Koen-dori Gallery, Interactive Space
Admission
Free
Overview of the Project
Mitsushima Takayuki, a blind artist, has been invited to produce works in residency on the theme of the city and to give a participatory hands-on exhibition, "Mitsushima Takayuki Residency and Exhibition: GOING OVER—Touching the Texture of the City." Mitsushima has long explored the possibilities of "touch-and-see" painting. Through his works, Mitsushima will stimulate visitors' senses to touch the texture of the city, including the sounds and smells that abound, and the texture of the ground that can be felt through the soles of one's feet. With visitors not only experiencing the works at the exhibition venue but also participating in their creation, unexpected forms will surely emerge. This is a gateway to a world that is not only visual, but also an opportunity to experience the city that lies beyond sight.
Download Brochure

What You Can Do During the Open-House Periods
We invite you to watch video footage of the residency, feel the traces of the artist's work, and participate in the collaboration with the artist and other participants.

• You are welcome to touch and appreciate the works at the exhibition site. Due to the nature of the works, they may break if excessive force is applied, so please touch them gently.
• Visitors are invited to participate in the creation of artworks during the artist's residency, using materials used by the artist on a special wall at the venue.

<Precautions>
In order to prevent the spread of COVID-19, we ask that you understand and cooperate with the following matters at the venue:
• Please wear a mask, and wash and disinfect your hands.
• People with cold symptoms or with a temperature of 37.5℃ or higher are not allowed to enter the venue.
• If the room is crowded, you may be asked to wait to enter.
Artist Profile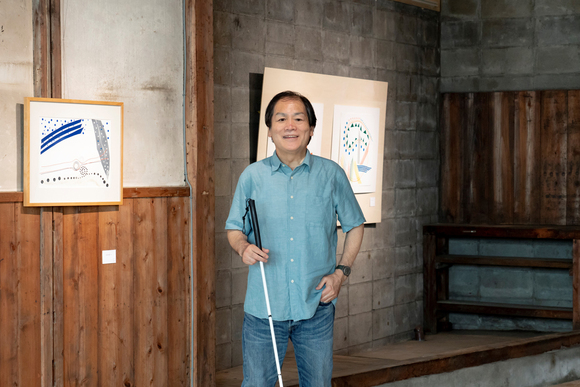 MITSUSHIMA Takayuki

Born in Kyoto in 1954. Mitsushima mainly creates two-dimensional and semi-three-dimensional paintings by collage using line tape, cutting sheets, nails, cloth, and other materials, and has been exploring new methods of expression such as "touchable paintings" and "tactile collages" for many years. In addition to participating in numerous exhibitions in Japan and abroad, he opened Atelier Mitsushima as a gallery and his own studio in January 2020, and has been actively conducting workshops and planning group exhibitions focusing on the sense of touch.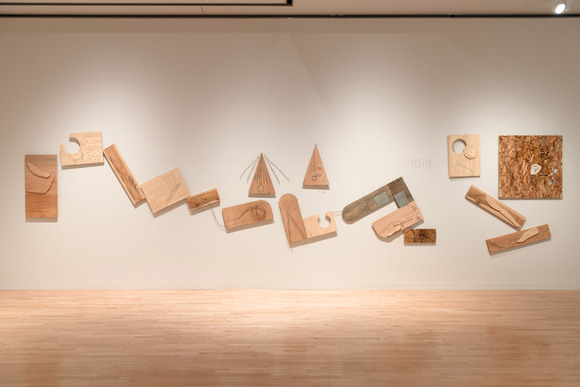 《From Kiyosumi- Shirakawa station of HANZOMON line to the Museum》 2019
Nails, marking pins, tacks, pins, hooks, staples, tin sheet, wood Production cooperation:Atelier Mitsushima
Photo: Alloposidae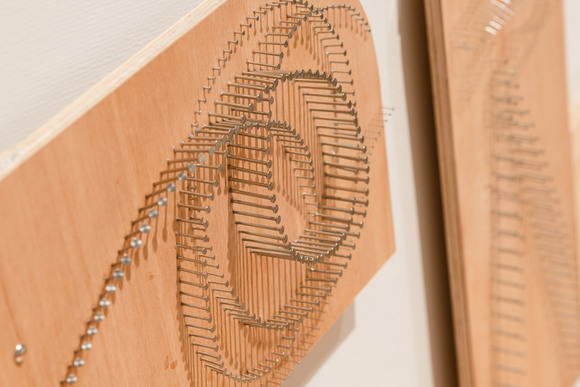 《From Kiyosumi- Shirakawa station of HANZOMON line to the Museum》 2019
Nails, marking pins, tacks, pins, hooks, staples, tin sheet, wood Production cooperation:Atelier Mitsushima
Photo: Alloposidae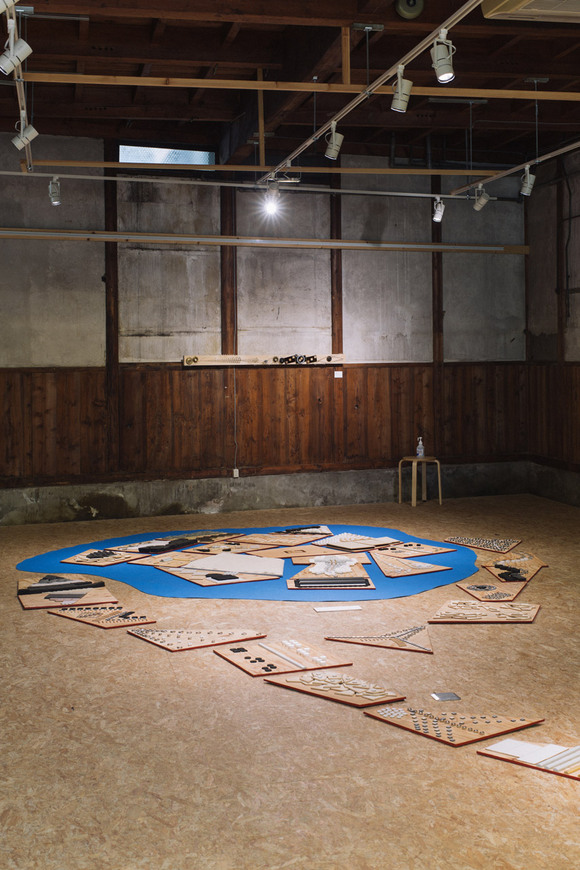 《Step forward, Expand, Form》2022
Mixed media
Production cooperation:Atelier Mitsushima
Photo: Hirotsugu Horii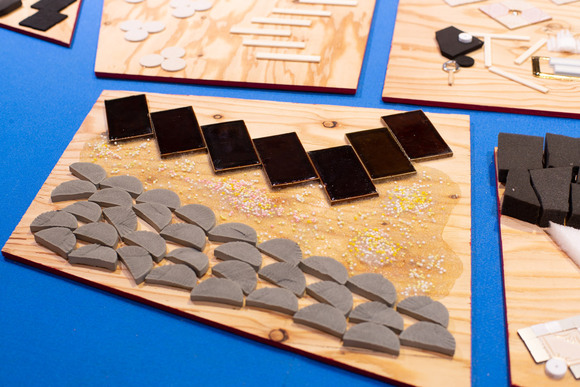 《Step forward, Expand, Form》2022
Mixed media
Production cooperation:Atelier Mitsushima
Photo: Hirotsugu Horii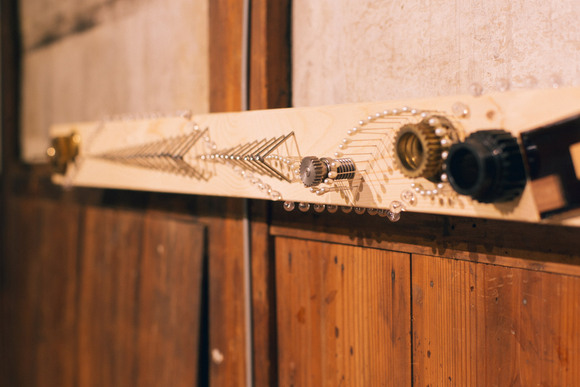 《Gears and Biscuits》2022
Gears, tiles, nails, marking pins, wood
Production cooperation:Atelier Mitsushima
Photo: Hirotsugu Horii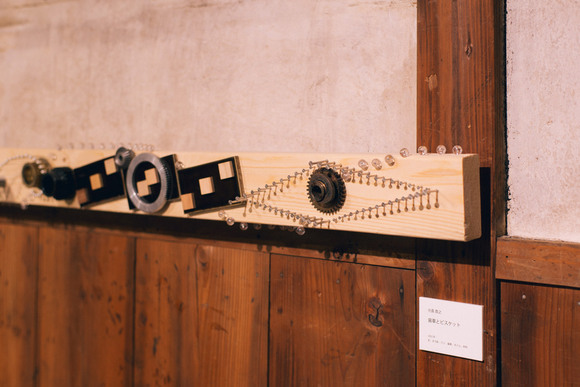 《Gears and Biscuits》2022
Gears, tiles, nails, marking pins, wood
Production cooperation:Atelier Mitsushima
Photo: Hirotsugu Horii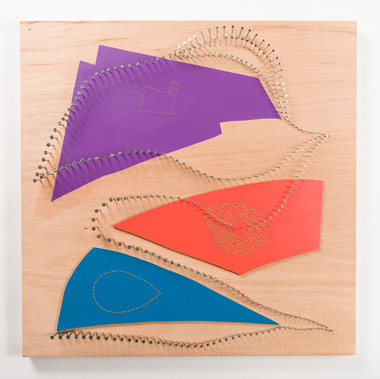 《Mountain》2019
Veneer, cutting sheet, nails, plywood
Production cooperation:Atelier Mitsushima
Photo: art space co-jin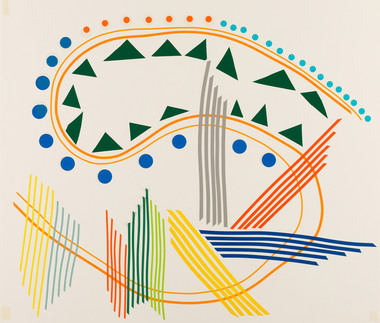 《Bamboo Rhythm》2004
Line tape, cutting sheet, stickers, paper
Photo: art space co-jin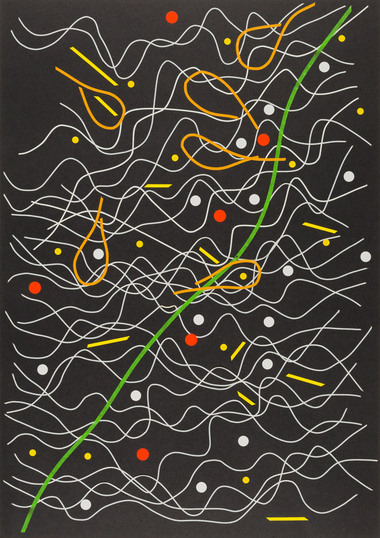 《Night Forest》2003
Line tape, cutting sheet, stickers, colored drawing paper
Photo: art space co-jin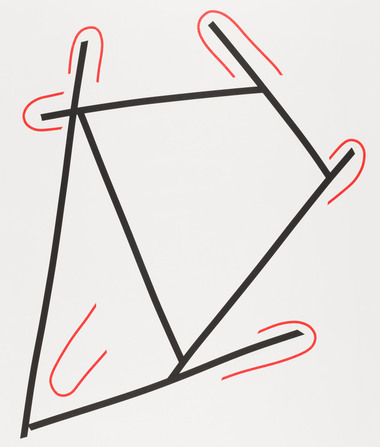 《Dead End》2004-2007
Line tape,paper
Photo: art space co-jin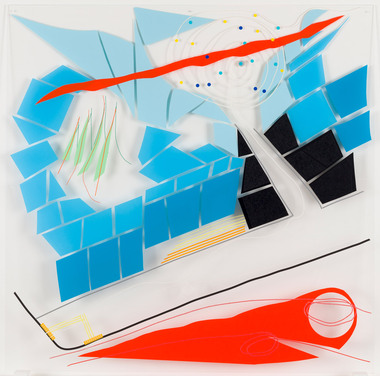 《Through the alley》2015
Cutting sheet, line tape, Braille stickers, stickers, acrylic board
Production cooperation:Atelier Mitsushima
Photo: art space co-jin