Imaginative Drawings in Monochrome

Exhibitions
Gallery 1 & 2

Art Direction, Design: Yosuke Okita / attitude inc.
Depiction is an act that produces a visible form as well an act that produces no visible form. It can mean both to depict a figure with a tool on a flat surface using lines and to depict an image in one's mind. To depict, as such, expresses an action broad in meaning. Monochrome, on the other hand, calls to mind creative expression using a single color or gradations. Limiting color does not limit expressive variation, however. Even when limiting expression to black and white monochrome, infinite differences can arise in an artwork due to the different media used and different drawer sensibilities. A transition from white to black can also involve a wide range of gradations, and slight shading in a picture displaying pure white or pure black will produce beautiful shadows and call forth an image in the viewer's mind. Monochrome is profound and appealing precisely because it is simple.

This exhibition focuses on the unique expressive world of a limited monochrome color palette. Featured are works employing drawing tools such as charcoal, pen, and needle as well as works employing materials rarely used for drawing, such as wire, and works whose image emerges from inscribed words and icons. How broadly and deeply can we discover the meaning of "depiction" in a varied range of works displaying strong contrasts as a result of narrowing down the options? Before viewing the works, let us begin by depicting a rich world of creation and imagination in our minds.
Title
Imaginative Drawings in Monochrome
Period
Saturday, 22 July – Sunday, 24 September 2023

Opening Hours
11:00am - 7:00pm

※Open until 9:00pm on 28 July, 4, 11, 18 and 25 August for "Summer Night Museum".

Closed on Mondays (except Sep. 18), Sep. 19(Tue)
Venue
Tokyo Shibuya Koen-dori Gallery
Admission

Free
Artists

OKAMOTO Toshio, TAKAHASHI Kazuhiko, Tanukida Shin, NISHIOKA Koji, HIRASE Toshihiro, HORIGUCHI Yoshiteru, YOSHIKAWA Toshiaki
Organaized by

Tokyo Shibuya Koen-dori Gallery, Museum of Contemporary Art Tokyo, Tokyo Metropolitan Foundation for History and Culture
Download Brochure
Artists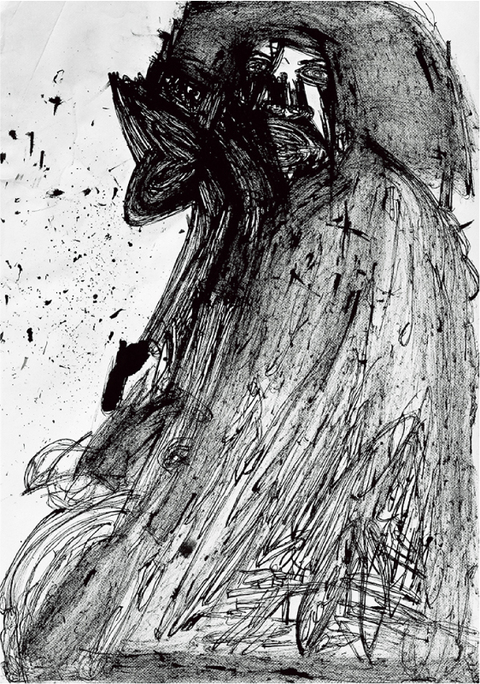 OKAMOTO Toshio 1978‐

Born in Shiga Prefecture. A member of Atelier Yamanami (Shiga Prefecture) since 1996. Manipulating a single disposable chopstick with a sharpened tip dipped in India ink, OKAMOTO Toshio draws a subject in a photo or seen in reality, converting it into a new image. If the subject is a truck, he faithfully depicts the passing scenery and details on the front, sides, and back of the truck in the manner of a net (polyhedron). If a person, he overlays his lines vigorously while splattering ink, gradually bringing his image to life. His main exhibitions include the 2017-2018 "KOMOREBI Art brut japonais" (Le Lieu Unique Center for Contemporary Culture, France).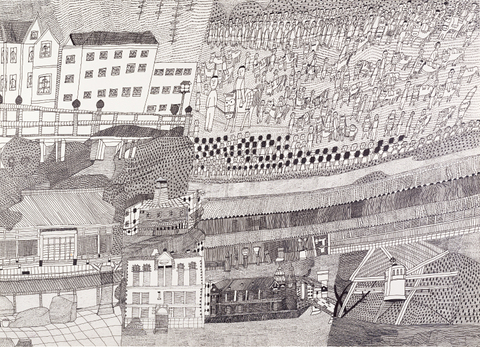 TAKAHASHI Kazuhiko 1941‐2018

When a painting club was formed at Morioka Sanseien, TAKASHASHI Kazuhiko at age 58 created a painting for the first time. He thereafter devoted his energies to art, creating over 300 high-density pen drawings. His works, depicting stories and subjects on the basis of books, photos, and memory of actual scenes, vividly evoke the bustle of cities and people's livelihoods in viewers' minds. His main exhibitions include the 2010-2011 "Art Brut Japonais" (Halle Saint Pierre, France).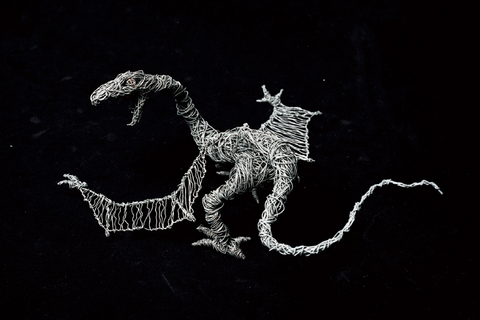 Tanukidashin 1999‐

Born in Hyogo Prefecture. Lives and works in Hyogo. Creating wire sculptures by a method of his own, a practice he began as a third-year junior high school student, Tanukidashin realistically depicts ships, airplanes, and living creatures as if sketching lines in three-dimensional space. The subjects of his works are inspired by books and other resources, as well as ships seen in the harbor city where he lives. His images, which range from large-scale industrial products to characters one might encounter in a fantasy novel, are all entirely original creations of his own. His main exhibitions include the 2014 "4th 'Kokoro no Aato-ten' in Shiawase no Mura 2014," Hyogo Prefecture.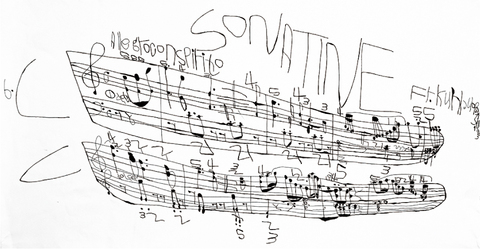 NISHIOKA Koji 1970‐

Born in Osaka Prefecture in 1970. An early member of Atelier CORNERS (Osaka Prefecture) founded in 2005. After a piano and sheet music were gifted to the facility, NISHIOKA Koji began transcribing music in a richly emotionally style, his lines running far off course in a distinctive way or overlaid to make them thick and dark. Nishioka even now continues to transcribe sheet music songs he likes, seemingly absorbed in memories of the classical and anime songs he enjoyed in his childhood. His main exhibitions include the 2015 "Art Brut Live, abcd collection," DOX Centre for Contemporary Art (Czech). His work is collected by Art brut connaissance & diffusion, France, and other cultural organizations.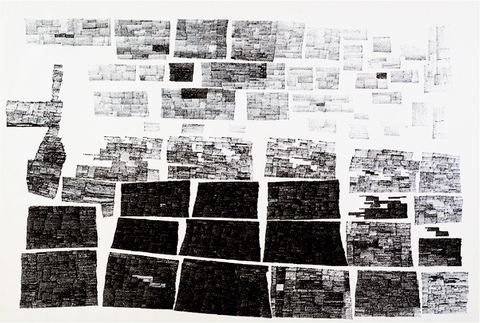 HIRASE Toshihiro 1971‐

Born in Hokkaido in 1971. HIRASE Toshiro's art practice as a member of Akatoki Gakuen (Hokkaido) began suddenly in one corner of a notebook page in 2001, it is said. At a glance, his works suggest abstract paintings composed of color fields, yet the fields are actually units formed of clusters of countless X marks. Because he continually marks Xs until his pen runs out of ink, the ink smudges made by his hand naturally evolve into gradations of dark and light, and various expressive nuances are born. In Hirase's art, shapes born of coincidence and necessity intersect as a result of an accumulation of actions. His main exhibitions include the 2010-2011 "Art Brut Japonais" (Halle Saint Pierre, France).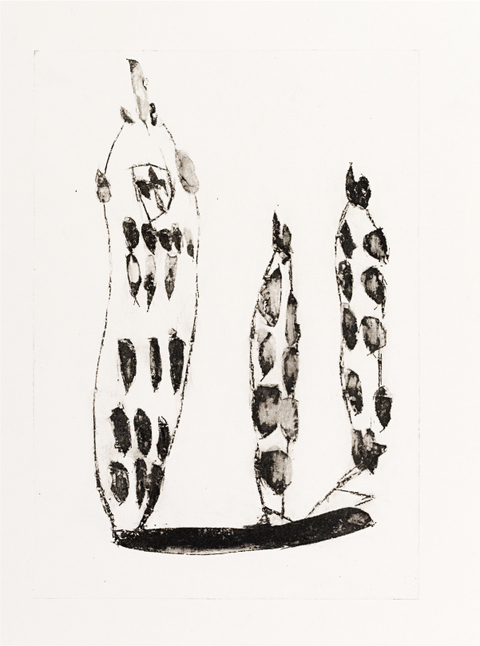 HORIGUCHI Yoshiteru 1978‐

Born in Kyoto Prefecture in 1978. Creates at Fushimi Gakuen's "Atelier Yoohoo!!" in the city of Kyoto. HORIGUCHI Yoshiteru's prints depicting cute, plumply rounded motifs are created using the drypoint technique of directly incising a plate used for printing. After sketching lines in pencil, he gauges them out by tracing them with a needle or else peels off the surface of the paper plate by hand. Using this plate as the original plate, the work goes through the printing process and reaches completion. By means of his gauging and peeling, the faint lines and fields that Horiguchi incises in a pure white cardboard plate obtain rich prominence by means of ink bleeding into the cardboard. His exhibitions include the 2020 "HIGUCHI Yoshimasa HORIGUCHI Yoshiteru" art space co-jin, Kyoto Prefecture.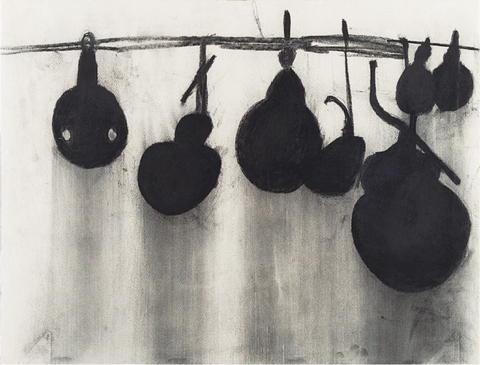 YOSHIKAWA Toshiaki 1947-1987

Born in Kyoto Prefecture in 1947. Entering the Mizunoki support facility for people with disabilities (Kyoto Prefecture) in 1966, YOSHIKAWA Toshiaki produced in a painting class taught by Japanese-style painter NISHIGAKI Chuichi (1912-2000). Yoshikawa is known for charcoal sketches of bold design featuring darkly expressed motifs. The charcoal pictures, which he never corrected or touched up, display surprising, beautiful gradations between their black motifs and white spaces, forming a splendidly balanced picture. The onion series he continually developed has many variations that viewers can compare and enjoy. His work in this exhibition, Gourd, is one of a series of pieces displayed in the 1993 "Parallel Visions—Modern Artists and Outsider Art" and concurrently held "Outsider Art in Japan" (Setagaya Art Museum, Tokyo).
Related Event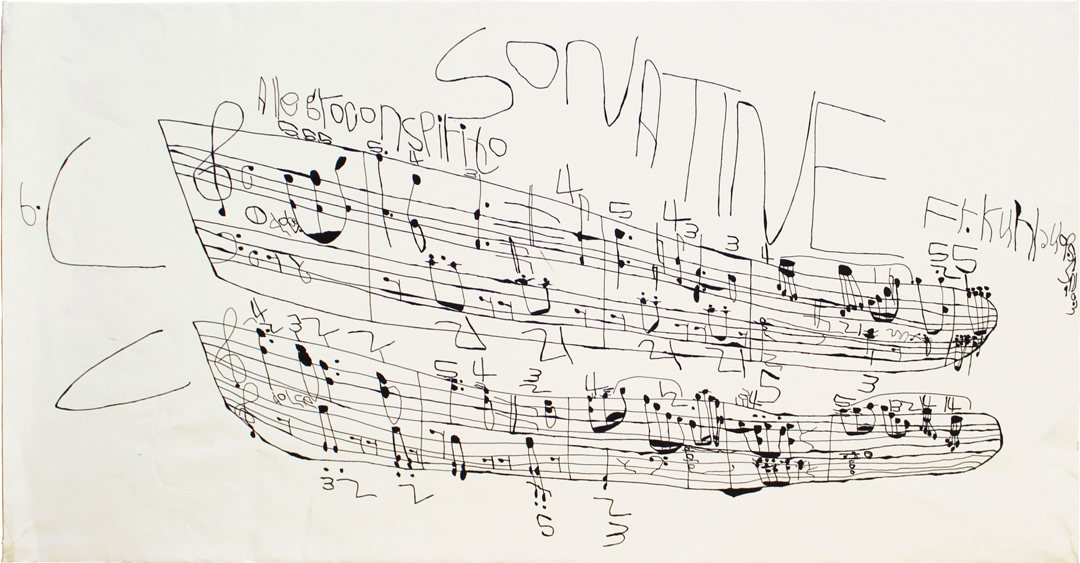 Related Events of "Imaginative Drawings in Monochrome"
Drawing + Talk: "Pictures You Can See and Hear Music In and Their Stories"
Period

Friday, 28 July 2023

Venue

Tokyo Shibuya Koen-dori Gallery, Gallery1, Gallery2

Admission

Free
Talks / Symposiums
Open studio
Gallery 1 & 2
Sign-interpreting provided
This is an event of public production of drawings and talk.

※Conducted in Japanese.

【This event has ended】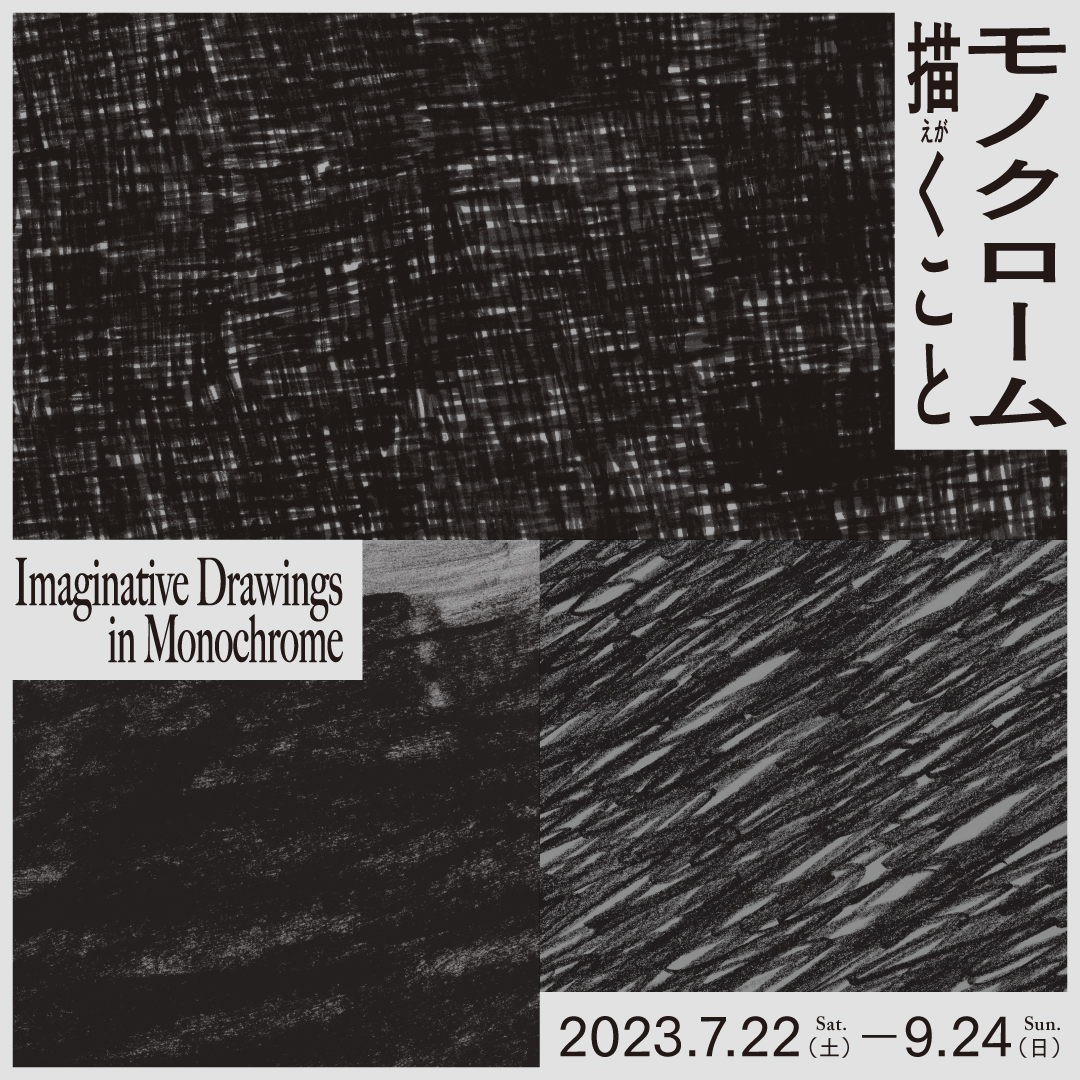 Related Events of exhibition "Imaginative Drawings in Monochrome"
Appreciation Event "Miru to Wa"
Period

Monday,28 August/ Tuesday, 12 September/ Wednesday, 13 September

Venue

Tokyo Shibuya Koen-dori Gallery, Gallery1, Gallery2

Admission

Free
Talks / Symposiums
Exhibitions
Gallery 1 & 2
Sign-interpreting provided
At this event participants appreciate art with other participants.
※Conducted in Japanese.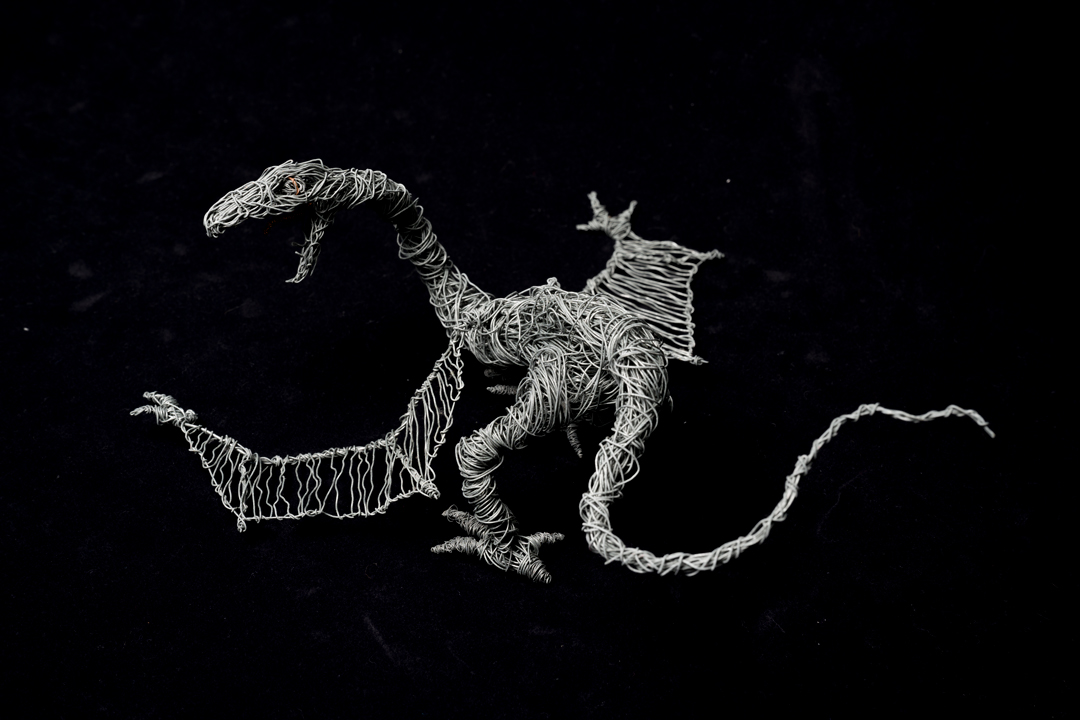 Related Events "Imaginative Drawings in Monochrome"
Artist Talk| Guest: Tanukidashin
Period

Friday, 8 September 2023

Venue

Tokyo Shibuya Koen-dori Gallery, Gallery1, Gallery2

Admission

Free
Talks / Symposiums
Exhibitions
Gallery 1 & 2
Sign-interpreting provided
※Conducted in Japanese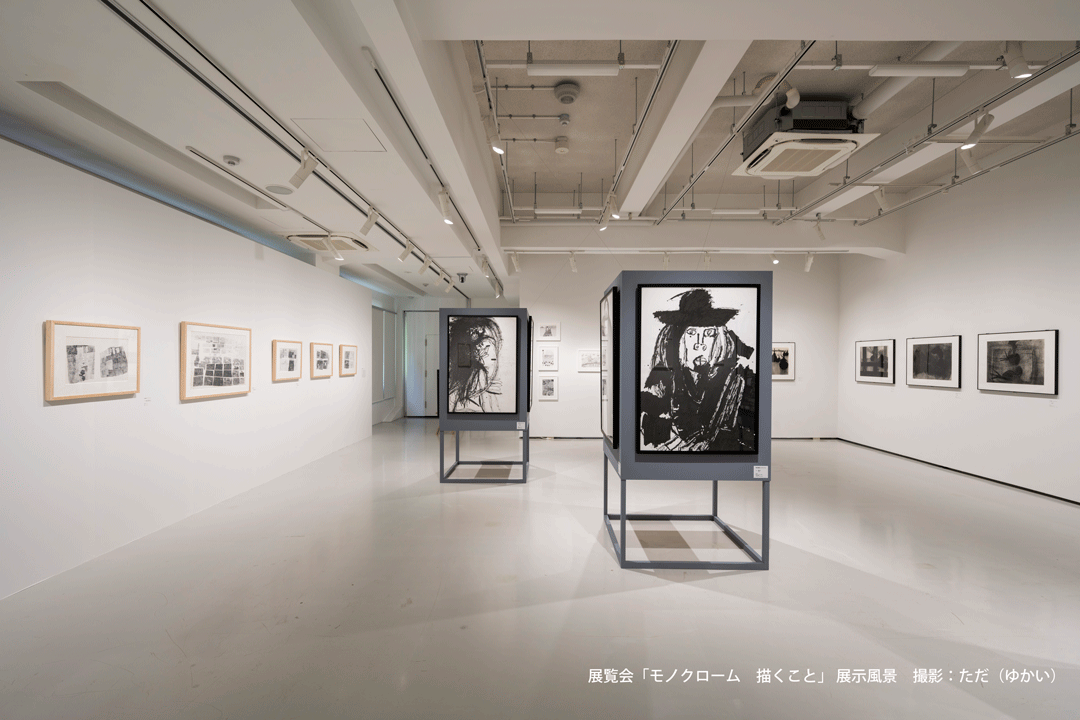 Related Events "Imaginative Drawings in Monochrome"
Curator's Gallery Talk ※Conducted in Japanese
Period

Friday, 4 August 2023

Venue

Tokyo Shibuya Koen-dori Gallery, Gallery1, Gallery2

Admission

Free
Talks / Symposiums
Exhibitions
Gallery 1 & 2
The curator of this exhibition will give commentaries on the art works.
It will be conducted in Japanese.

【This event has ended】