Grand Opening Commemorative Programs Exhibition
Open to Surprises【Ended】
Due to the concern regarding the outbreak of novel coronavirus (COVID-19), we have announced to end the Grand Opening Commemorative Programs Exhibition "Open to Surprises" . We sincerely apologize for any inconvenience this may cause and kindly ask for your understanding. (03/27/2020)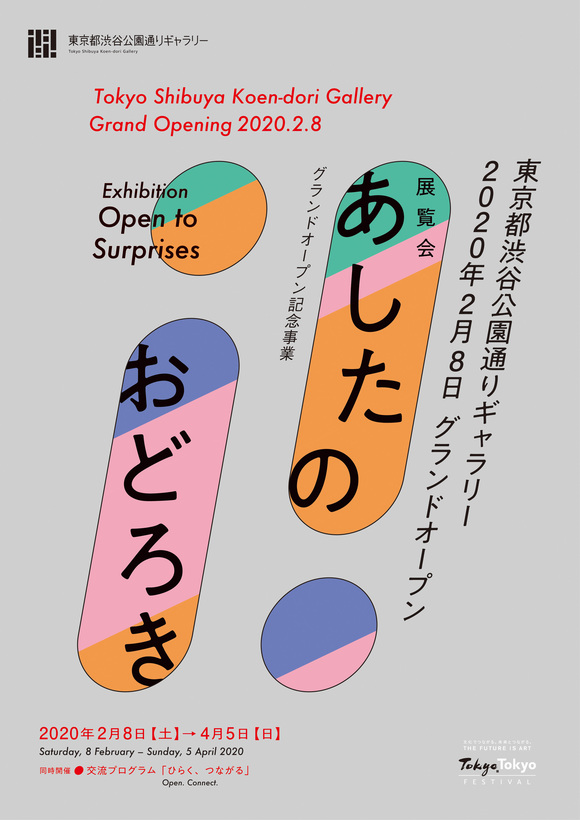 Exhibition Overview
| | |
| --- | --- |
| Title | Grand Opening Commemorative Programs Exhibition Open to Surprises |
| Period | Saturday, 8 February – Sunday, 5 April 2020 (Closed: 2/29-4/5) |
| Opening Hours | 11:00 - 19:00 |
| Closed | Mondays (except 24 February) and February 25 |
| Venue | Tokyo Shibuya Koen-dori Gallery, Galleries 1 and 2 |
| Admission | Free |
| Organized by | Tokyo Shibuya Koen-dori Gallery, Museum of Contemporary Art Tokyo, Tokyo Metropolitan Foundation for History and Culture |
| Artists | Itsuo Ozasa, Yuki Kobayashi, Takashi Shuji, Fuminao Suenaga, HIROYUKI DOI, Shisuko Tomoto, Koji Nishioka, nui project, Yuki Fujioka, Dennis Hollingsworth, Ryo Matsuoka, Suma Maruki, Junko Yamamoto |
download leaflet
Installation views of the Grand Opening Commemorative Exhibition, "Open to Surprises"
When you look at a work of art and trace the movements of the artist's eyes and hands, you may encounter a small surprise or unexpected discovery that veers slightly outside the world you have known until now. Little by little, these kinds of experiences change the way we look at things. The theme of this exhibition is the experience of surprises and discoveries that lie hidden in our day-to-day lives.
Expressing familiar things, such as animals, everyday items, and landscapes, with their own unique colors and shapes, using familiar materials and techniques such as drawing, oil paints, embroidery and applique to create expressions that go beyond the imagination, these artists make us realize the existence of spaces that we have never paid any attention to before. These works rock our way of looking at things that we have always taken for granted, throwing our experiences into clear, sometimes sharp, relief. We hope that, as visitors interact with a variety of works, they will shed light on things and actions that are usually ignored in daily life and open up a new world different from today.
*During this exhibition, the works of Suma Maruki will be changed.
Highlight
More surprises in between the works!
Other surprises are to be found here and there in the room that loosely connects the two galleries. This creates a large, moving flow in a confined space, enabling visitors to enjoy wandering between the works, almost like taking a leisurely stroll.
Venue design: dot architects
Artists
Itsuo Ozasa
Born in Kyoto Prefecture. (1924–2012)
Entered Mizunoki-Ryo (now simply "Mizunoki") in Kameoka City in 1962. Attended art classes held at Mizunoki and created many paintings, with animals as his dominant motif. Five of Ozasa's works are in the Collection de l'Art Brut in Lausanne.
Yuki Kobayashi
Born in 1990 in Tokyo.
Completed the Performance Pathway at the Royal College of Art in 2016. Through multiple forms of art using his own body, Kobayashi casts doubts on the stereotypes found in society.
Takashi Shuji
Born in 1974 in Hyogo Prefecture.
Started creating art at Suzukake Painting Club in Nishinomiya City around 1993. Draws plants, animals, and everyday items in pastels with his own unique forms and coloring. Shuji's works can be found in various collections, including the Collection de l'Art Brut in Lausanne.
Fuminao Suenaga
Born in 1974 in Yamaguchi Prefecture.
Graduated from the Department of Fine Arts, Tokyo Zokei University. Using things seen in everyday life and existing items related to the exhibition space as materials, Suenaga repeatedly explores those things that his own vision reacts to, in order to create paintings and three-dimensional objects.
HIROYUKI DOI
Born in 1946 in Aichi Prefecture.
The Japanese self-taught artist Hiroyuki Doi has been creating images that consist of many small circles on washi since around 1985. His circle drawings are delicate and powerful. Doi's works have been exhibited in the U.S.A. and Europe. His works are in the collection of the American Folk Art Museum, New York.
Shisuko Tomoto
Born in Kumamoto Prefecture. (1913–2005)
Started painting at the age of 53, using oil paints and canvases that her son, an aspiring artist, had left behind at home. Tomoto's works depict childhood memories, familiar events, and scenes of nature in vibrant colors.
Koji Nishioka
Born in 1970 in Osaka Prefecture.
Began creating works of art at Atelier CORNERS in 2005. With music notes as his main motif, Nishioka creates line drawings that are replete with carefree rhythms. His works can be found in the abcd collection in France and the collection of Outside In in the UK.
nui project
A group of sewists who work in the Fabric Workshop, of Shobu Gakuen in Kagoshima prefecture. The nui project began in earnest in 1992, creating highly original works in which overlapping stitches dance with effortless abandon across the fabric. The project's works have been exhibited in Japan and overseas locations since around 2000.

Yuki Fujioka
Born in 1993 in Kumamoto Prefecture.
A cut-paper artist who creates works with scissors. Fujioka began by making collages from geometric shapes cut from paper, and has now progressed to works made with paper tendrils spaced less than a millimeter apart. He has participated in overseas exhibitions in recent years.
Dennis Hollingsworth
Born in 1956 in Madrid, Spain.
Graduated from Claremont Graduate University in 1991. Using his own original technique of "wet on wet" and tools he makes himself from cardboard, Hollingsworth draws out the characteristics of the materials in his works, creating diverse textures.
Ryo Matsuoka
Born in 1974 in Tokyo.
In addition to paintings that he creates without brushes, using his fingers to paint, as if to check the feel of paints on the paper, he also creates free-flowing machine embroidery in bright colors, installations, and murals, displaying a wide range of expressions. Matsuoka has participated in many exhibitions in Japan and overseas.
Suma Maruki
Born in Hiroshima Prefecture. (1875–1956)
Maruki did not start painting until after she turned 70 years of age. Her work was selected for the Nihon Bijutsu-in Exhibition for the first time in 1951. She was a prolific creator, leaving behind more than 700 works depicting flowers, vegetables, and other items that are overflowing with life force.
Junko Yamamoto
Born in 1973 in Hyogo Prefecture.
With everyday items such as kitchen utensils, food, and tools as her motifs, Yamamoto creates applique works that combine felt with other various textiles. Her works can be found in The Museum of Everything and other collections.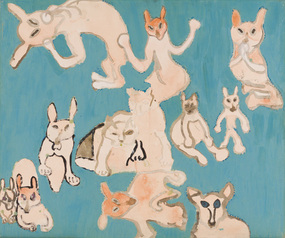 Itsuo Ozasa, My Friend,
ca. 1985-1989, MIZUNOKI MUSEUM of ART, KAMEOKA.
Courtesy of MIZUNOKI MUSEUM of ART, KAMEOKA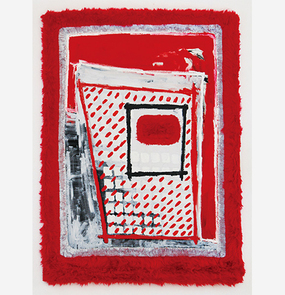 Yuki Kobayashi, Chaotic Love,
2017, Collection of the artist.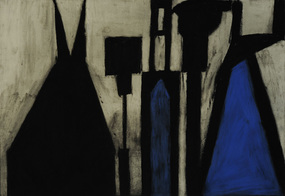 Takashi Shuji, Pliers, Screwdriver, Saw and Punch,
2006, Collection of The Nippon Foundation.
Photo: Nobuo Onishi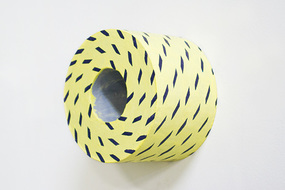 Fuminao Suenaga, Rope, 2015, Private collection. 
© Fuminao SUENAGA Courtesy of Maki Fine Arts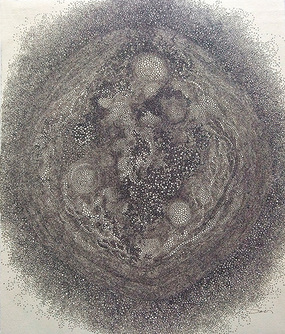 HIROYUKI DOI, Peace,
2010. Courtesy of Yoshiko Otsuka Fine Art International, Tokyo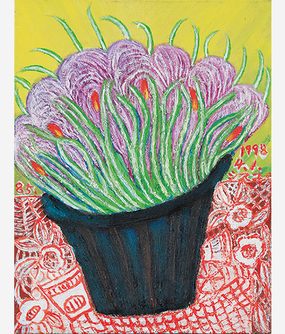 Shisuko Tomoto, This Flower is Crocus,
1998, Private collection.
Photo: Yo Shiota Courtesy of Art Office Tomoto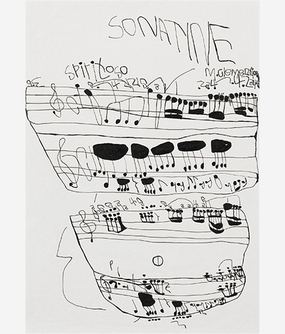 Koji Nishioka, Score SONATINE, Date unknown.
© atelierCORNERS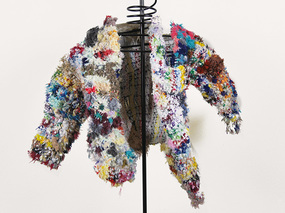 Keisuke Nomaguchi, Untitled, 2012-2016.
© 2016 SHOBU STYLE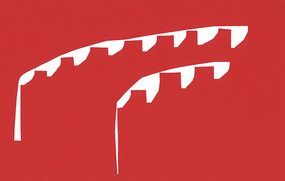 Yuki Fujioka, Untitled,
2004, Collection of the artist.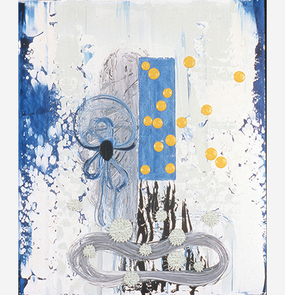 Dennis Hollingsworth, Whilst Whitman, 1997.
Photo: Ikuhiro Watanabe
© Dennis Hollingsworth Courtesy of Tomio Koyama Gallery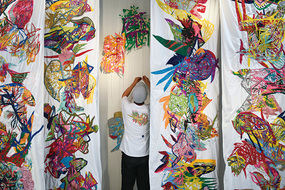 Ryo Matsuoka, Installation view: "Tibet Festival 2019."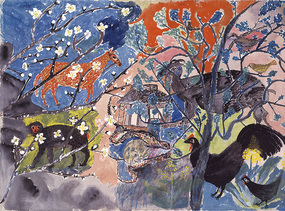 Suma Maruki, Plum Blossoms Blooming,
1952, Maruki Gallery For The Hiroshima Panels Foundation.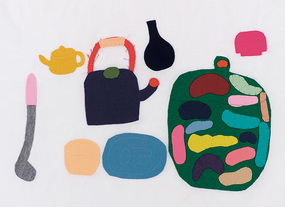 Junko Yamamoto, Untitled (Ladle, Teapot, Kettle among other thing), ca. 1990.
© Junko Yamamoto Courtesy of Yukiko Koide Presents

Related Event
Gallery Cruise【Cancelled: 3/29】
Period

Saturday, 8 February 2020 / Sunday, 29 March

Venue

Tokyo Shibuya Koen-dori Gallery, Galleries 1 and 2

Admission

Free
Talks / Symposiums
Gallery 1 & 2
Sign-interpreting provided
Visitors will cruise the exhibition venue while listening to the artists.
Curators' Gallery Talk【Cancelled: 3/15】
Period

Saturday, 22 February 2020 / Sunday, 15 March

Venue

Tokyo Shibuya Koen-dori Gallery, Galleries 1 and 2

Admission

Free
Talks / Symposiums
Gallery 1 & 2
Sign-interpreting provided
Special Session by Shobu Gakuen's otto
"Discovery of Sound from Nowhere"【Cancelled】
Period

Saturday, 29 February 2020

Venue

Admission

Free
Mini concerts
Interactive Space
Open Talk Session
"Coexistence and Art: Surprises in Interaction"【Cancelled】
Period

Saturday, 28 March 2020

Venue

Tokyo Shibuya Koen-dori Gallery, Interactive Space

Admission

Free
Talks / Symposiums
Interactive Space
Sign-interpreting provided