HOME >
Dear Stories: Tales and Talks
Art Brut 2023 Touring Exhibition
Dear Stories: Tales and Talks
【To be held at 3 venues in Tokyo in sequence】
Sep. 24 (Sun.) - Oct.4(Wed.), 2023   Sumida Riverside Hall Gallery 
Oct. 21 (Sat.) - Dec. 24(Sun.), 2023   Tokyo Shibuya Koen-dori Gallery
Jan. 24 (Wed.) - Feb. 7 (Wed.), 2024  TAMASHIN RISURU Hall(Tachikawa City Civic Center)Exhibition room

Exhibition Overview
This touring exhibition will stop at three locations in Tokyo to present the work of seven Art Brut artists whose highly unique and distinctive expressive styles have attracted attention both inside Japan and around the world in recent years.

From narratives that confirm our own existence to tales to share with others, human beings live their days in the company of a variety of stories. In this exhibition, you are asked to focus on savoring the stories that lie in each artist's creative process and the worlds of their works. Modeling the shape of someone important with a fictional story. Building one-of-a-kind automatons with empty beer cans. A gaze pointed at fragments of life, and the poetry born therein. Creating dioramas of imaginary neighborhoods and the traces of the passion left behind by repeated building and demolition. Attempting to get a bird's-eye view of space-time by depicting outer space and history. Drawing colorful, beloved birds and decorating the world of one's dreams. Memories of construction work during a bygone period of rapid economic growth and countless drawings made on graph paper. Herein exist the forms of narratives as filtered through each artist's unique experiences, interwoven with their expansion into tales, stimulating our sensitivities and imaginations to make them more abundant.

Our hope is that through meditations on stories, this exhibition will serve as a space to come in contact with the creativity of a diverse range of people and serve as the impetus for people to talk.

Title
Art Brut 2023 Touring Exhibition
Dear Stories: Tales and Talks

Period
Opening Hours
Venue

Sunday, 24 September - Wednesday, 4 Oct.ober 2023 10:00am‐5:00pm 
[Venue 1]Sumida Riverside Hall Gallery 


---


Saturday, 21 October - Sunday, 24 December 2023  11:00am‐7:00pm  *Closed on Mondays
[Venue 2]Tokyo Shibuya Koen- Gallery 


---


Wednesday, 24 January - Wednesday, 7 February 2024

  10:00am‐5:00pm


[Venue 3]TAMASHIN RISURU Hall(Tachikawa City Civic Center)Exhibition Room  


---


Sunday, 26 November 2023 2:00pm-3:00pm
Special event will be held in Hamura City Lifelong Learning Center Primo Hall YUTOROGI.
It will be announced on the website.
Admission
Free
Artists
KAMAE Kazumi, TOMINAGA Takeshi, HATANAKA Tsugumi, hideki, MATSUMOTO Hironobu, MIRUKA, YAMAZAKI Kenichi
Audio Guide

MORISAKI WIN(Actor・Artist)
Offered at all all venues of this exhibition.
Available free of charge.

Organaized by
Tokyo Metropolitan Government,
Tokyo Shibuya Koen-dori Gallery, Museum of Contemporary Art Tokyo, Tokyo Metropolitan Foundation for History and Culture
Cooperation・Support
Cooperated by: Tachikawa City, Hamura City Board of Education   Supported by: Sumida City

Download Brochure
Artists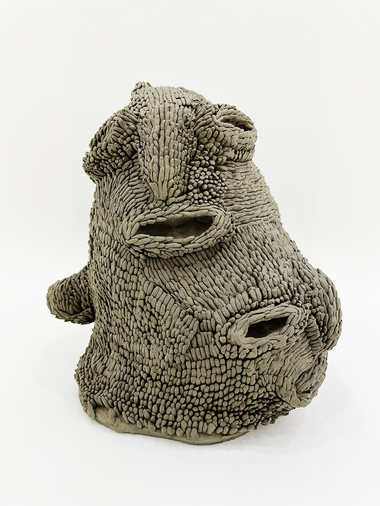 KAMAE Kazumi, Me and Masato going to eat ramen, 2021,
Collection of Atelier Yamanami, Courtesy of Atelier Yamanami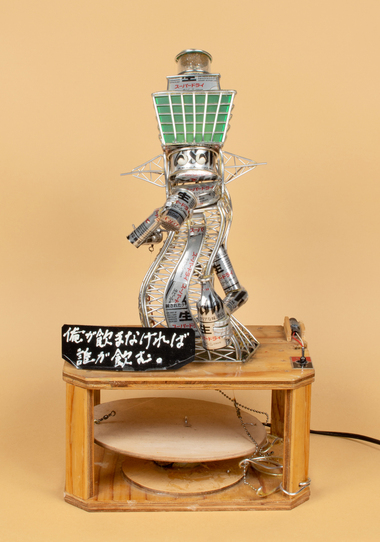 TOMINAGA Takeshi, Tsutenkaku (If I Don't Drink It, Who Will), Date unknown,
Private collection, Courtesy of Tomonotsu Museum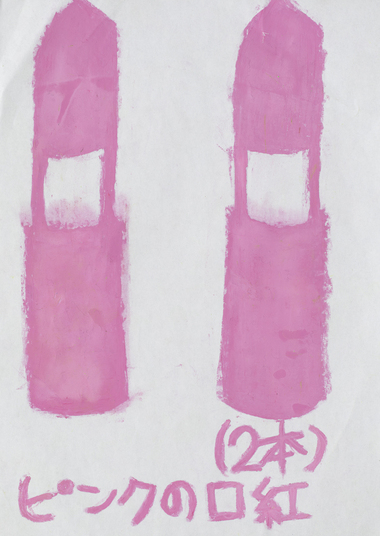 HATANAKA Tsugumi, Pink Lipstick (2 Sticks), Date unknown,
Collection of the artist, Photo by IGARASHI Kazuharu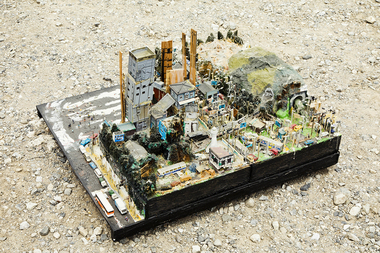 hideki, Kita-Sendai Station, 2023,
Collection of the artist, Photo by IGARASHI Kazuharu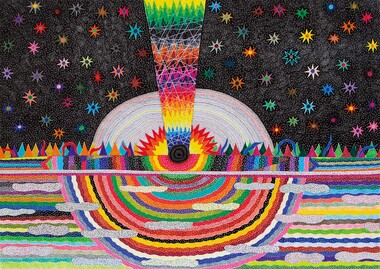 MATSUMOTO Hironobu, Black Hole, 2012,Collection of the artist
©Matsumoto Hironobu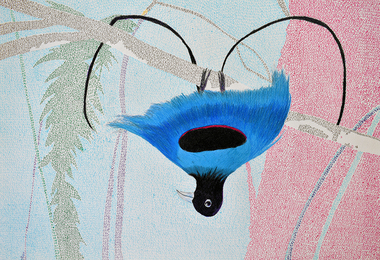 MIRUKA, Blue Bird-of-Paradise, 2017,
Collection of YELLOW, Courtesy of YELLOW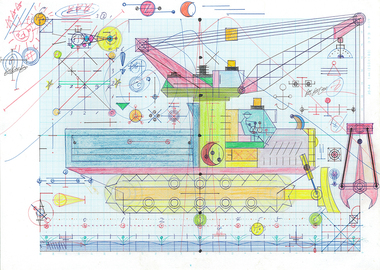 YAMAZAKI Kenichi, Dump Truck with Crane, Date unknown,
Private collection, Courtesy of GLOW

Audio Guide
Offered at all all venues of this exhibition.
available free of charge.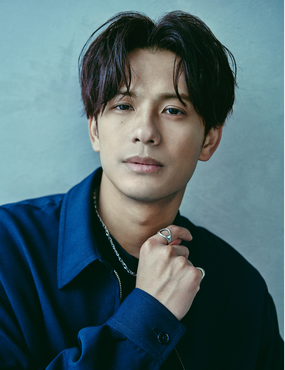 Navigator : Actor/Artist MORISAKI WIN

Born in 1990 in Myanmar.
He moved to Japan in the fourth grade and joined the entertainment industry in the eighth grade.
He made his Hollywood debut in 2018 with Ready Player One directed by Steven Spielberg. In 2020, he won Newcomer of the Year in the 43rd Japan Academy Film Prize for his performance in the film Listen to the Universe. Since then, he has appeared in numerous films and television dramas and starred in musicals such as West Side Story (2020), Pippin (2022), and SPY×FAMILY (2023).
He made his major recording label debut as a global entertainer in 2020.
He launched his first national tour in April 2023 and has served as a tourism ambassador for his native country of Myanmar since 2018.
Related Event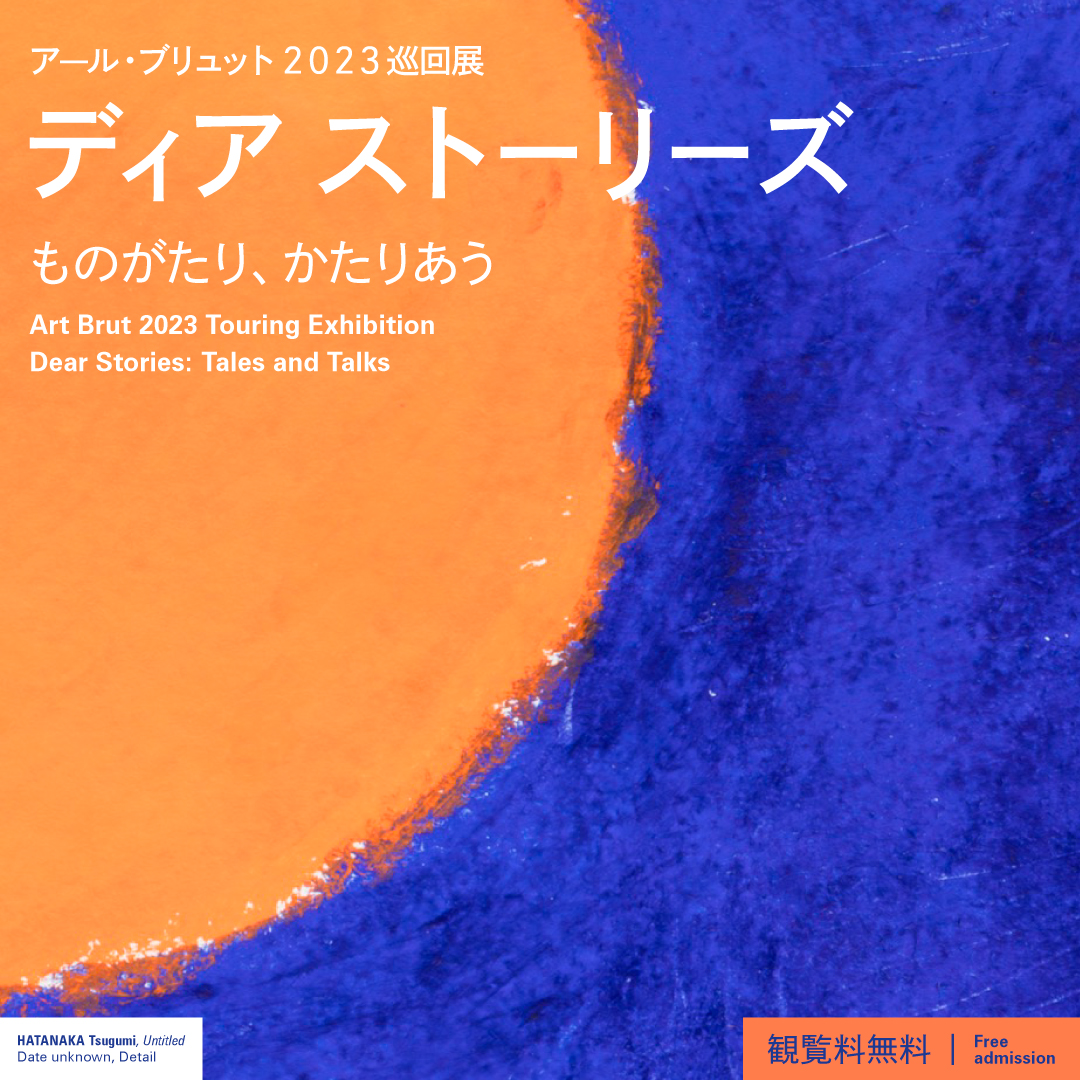 Related Event of "Art Brut 2023 Touring Exhibition Dear Stories: Tales and Talks"
Talk Event
Period

Saturday, 21 October 2023

Venue

Tokyo Shibuya Koen-dori Gallery, Interactive Space 

Admission

Free
Talks / Symposiums
Interactive Space
Sign-interpreting provided
Guests:
UEDA Kanayo(Poetic, Director of Kamagasaki Art University)
KISHI Masahiko(Sociologist, Professor of Kyoto University)
[Registration required; first come, first served]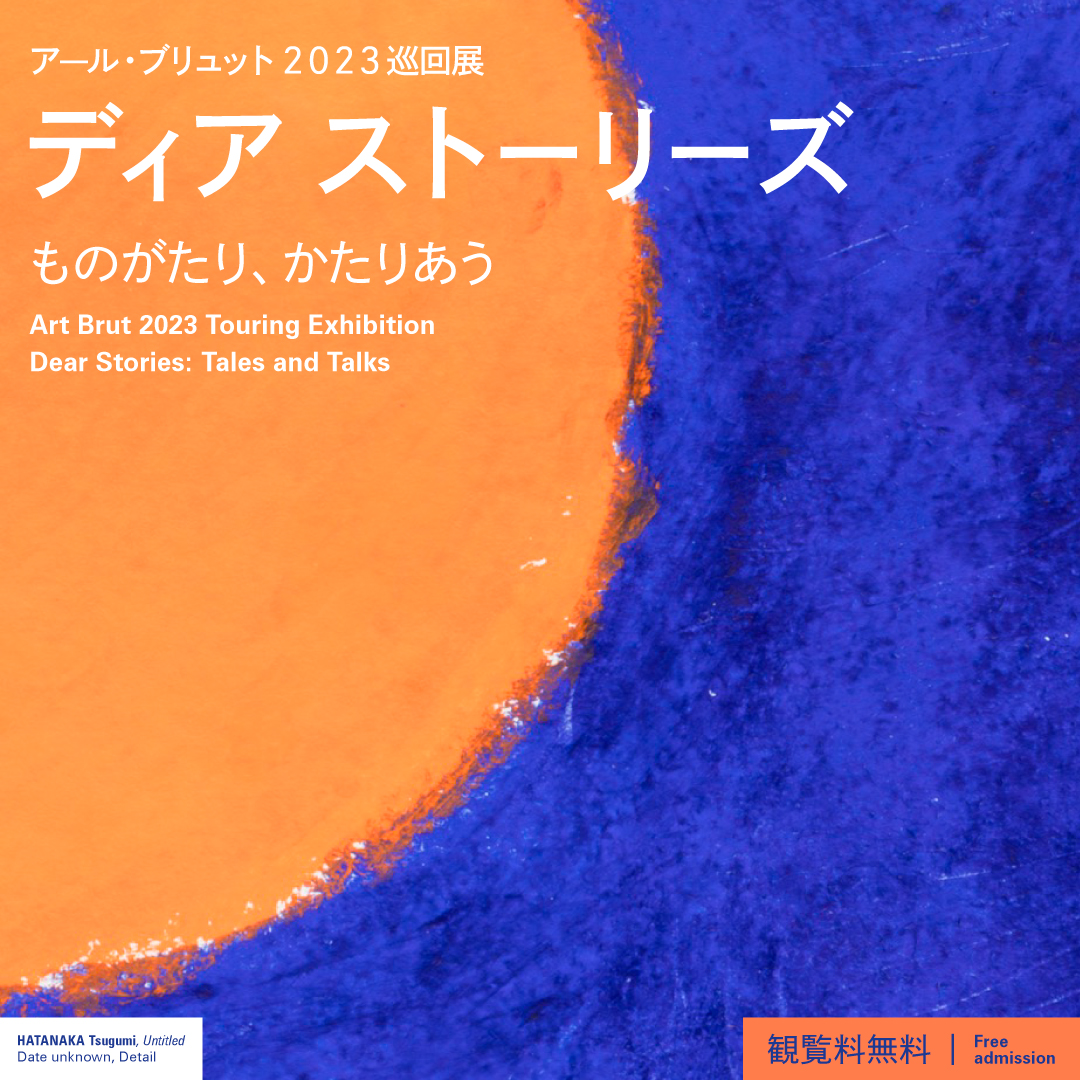 Related Event of "Art Brut 2023 Touring Exhibition Dear Stories: Tales and Talks"
Poetry Workshop
Period

Sunday, 22 October 2023

Venue

Tokyo Shibuya Koen-dori Gallery, Gallery1, Gallery2

Admission

Free
Workshops
Interactive Space
Sign-interpreting provided
Facilitator:UEDA Kanayo(Poetic, Director of Kamagasaki Art University)

For junior high school students and above.

[Registration required; first come, first served]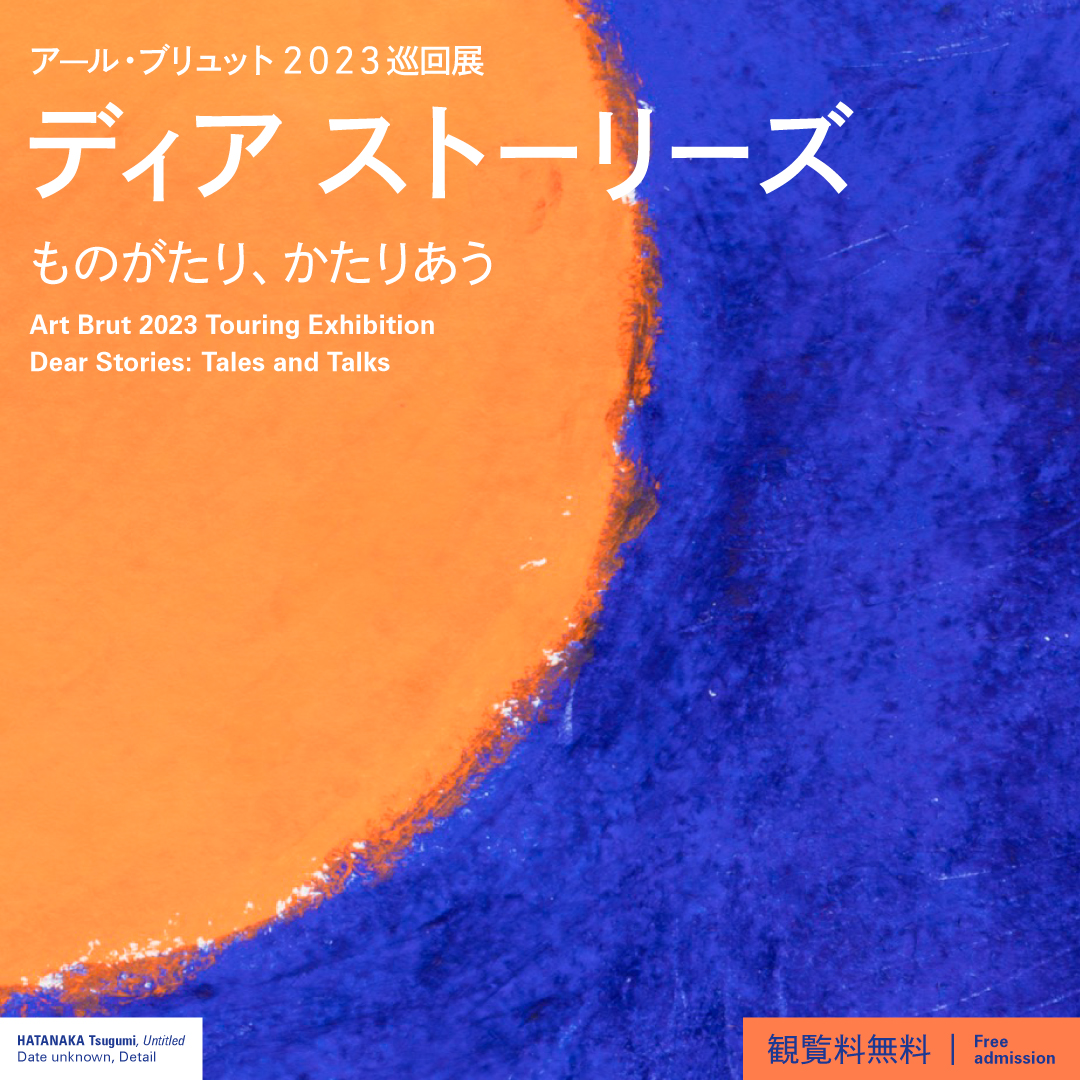 Related Event of "Art Brut 2023 Touring Exhibition Dear Stories: Tales and Talks"
Exhibition tour together with OriHime avatar robots
Period

Friday, 10 November 2023 / Saturday, 18 November

Venue

Tokyo Shibuya Koen-dori Gallery, Gallery1, Gallery2

Admission

Free
Others
Gallery 1 & 2
Online
Capacity: 6 participants for each tour (2 remote and 4 in-person)

[Registration required; If there are too many applications, a lottery will be held.]