Gallery 1 & 2
Interactive Space
Text-to-speech service provided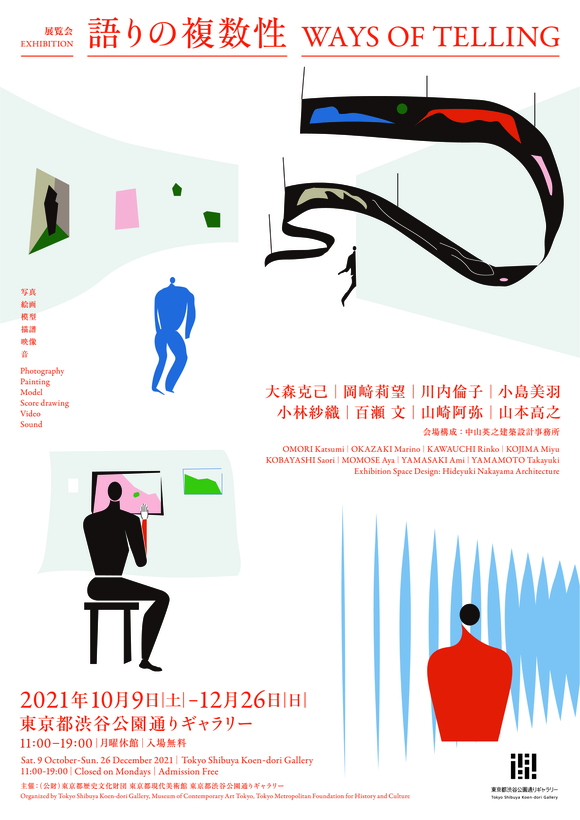 Exhibition Overview
In the sense that they are contingent on perception, seeing and hearing are also ways for a person to "tell." But there isn't only one way to understand and express things. Like how people can "see" without using sight or "speak" through sign language, there exist as many ways to "tell" as there are human bodies. This is not a special means lim­ited to certain people, but rather an ability that everyone has in order to live alongside the things and people different from themselves.

Our opportunities to enter unfamiliar territory by chance or spend time with others have declined over the past year and a half, greatly transforming our bodies. The artworks in this exhibition are attempts to interpret and express what is not there as a personal experience. The resulting works adopt an array of mediums and forms, from photography to painting, models, score drawings, video, and sound. Through these works, the exhibition utilizes the imagination of visitors to create a place where viewing becomes an experience unique to each person. It explores various ways of telling, so weakened today under the sheer weight of information in our lives, and envisions the bodies that weave that telling.


Title
WAYS OF TELLING

Period
Saturday, 9 October – Sunday, 26 December 2021

Opening Hours
11:00 - 19:00

*Films by MOMOSE Aya will be screened on a changing schedule every 30 minutes.

Closed
Mondays
Venue
Tokyo Shibuya Koen-dori Gallery, Galleries 1 and 2 and Interactive Space
Admission
Free
Artists
OMORI Katsumi, OKAZAKI Marino, KAWAUCHI Rinko, KOJIMA Miyu, KOBAYASHI Saori, MOMOSE Aya, YAMASAKI Ami, YAMAMOTO Takayuki
Exhibition Space Design
Hideyuki Nakayama Architecture

Organized by
Tokyo Shibuya Koen-dori Gallery, Museum of Contemporary Art Tokyo, Tokyo Metropolitan Foundation for History and Culture
Accessibility
In addition to audio and text-based guidance, various tools are available in the venue for visitors to experience the exhibition better.
Download Brochure
Artists
OMORI Katsumi
Photographer. Major recent solo exhibitions include "sounds and things" (MEM, 2014) and "Mountain Sounds" (Terrace Square, 2018). Group exhibitions include "Gardens of the World" (Museum Rietberg, 2016). Major photo books are Sanayora (Aiikusha, 2006), everything happens for the first time (match and company, 2011), and Shingan: Gontaro Yanagiya (Heibonsha, 2020)
OKAZAKI Marino
Born in Aichi in 1988 and based in Hokkaido. Her work captures shared sensations and visualized feelings. She held solo exhibi­tions at Gallery Mon ma ANNEX in 2015, and at Galle「y Monma in 2018. Group shows include "Art Brut National Exhibition" (2015), Art Brut」aponais "KOMOREBI" (2017), and the 6th/7th "What is Drawing" open-call exhibition (2016, 2018)
KAWAUCHI Rinko
Photographer. Born in Shiga in 1972. In 2002, she won the 27th Kimura lhei Award for her two photo books Utatane and Hanabi. Her recent publications include Ametsuchi (Seigensha, 2013) and Halo (HeHe, 2017) She has held numerous solo and group exhi­bitions at home and abroad. Her latest photo book publication is Des oiseaux (HeHe, 2021). In mid-October 2021, torch press will publish I/luminance: The Tenth Anniversary Edition
KOJIMA Miyu
Born in Saitama in 1992. In 2014, she joined ToDo-company's special cleaning service, undertaking such tasks as organiz­ing the articles of the deceased, cleaning up homes where trash is hoarded, and after murders and suicides or people who died alone in their homes. From 2016, she started teaching herself to make miniatures recreating the locations of solitary deaths, attracting attention on social media and from both」apanese and foreign media
KOBAYASHI Saori
Born in Kanagawa in 1988. After graduating from the Depart­ment of Design Informatics at Musashino Art University, she started her score drawing project, an attempt to visualize the scene evoked by music through drawing it on a musical staff. Her soundcentered practice includes creating pictorial film subtitles for the deaf.
MOMOSE Aya
Artist. Her practice employs self-referential means that reconsider the structures of mov­ing image through the medium itself, and explores the multilayered nature of commu­nication with others. Major solo exhibitions include "I.C.A.N.S.E.E.Y.O.U" (EFAG, 2019) and "Voice Samples" (Art Gallery 1, Yokohama Museum of Art, 2014). Major group exhibi­tions include "Listen to Her Song" (Chinretsukan Gallery, The University Art Museum, Tokyo University of the Arts, 2020) and "Roppongi Crossing 2016: My Body, Your Voice" (Mori Art Museum, 2016)
YAMASAKI Ami
Voice artist. Using a method similar to echolocation, she transforms acoustic shadows in a space through performance and installation, questioning how the world is formed. In 2022, her work will feature in "KYOTO STEAM 2022" (Kyoto City KYOCERA Museum of Art) and "JAPAN. BODY_PERFORM_LIVE" (Padiglione d'Arte Contemporanea, Milan)
YAMAMOTO Takayuki
Born in Aichi in 1974. Through the creative sensibility latent in children's conversations and play, he depicts the relationship between the individual and society as well as the char­acter of systems and customs of which we are not usually aware. Major exh心tions include "Go-Betweens: The World Seen through Children" (Mori Art Museum and other venues, 2014-15) and "Takayuki Yamamoto x Arts Maebashi BEYOND 20XX Classroom for Thinking about the Future" (Arts Maebashi, 2019)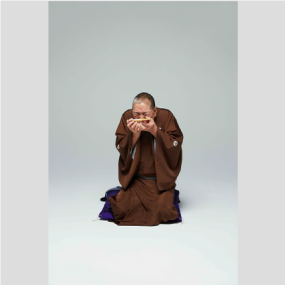 OMORI Katsumi Shingan: Gontaro Yanagiya (2019)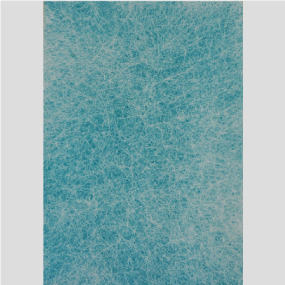 OKAZAKI Marino eye (2014)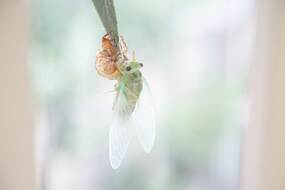 KAWAUCHI Rinko A New Day (2018)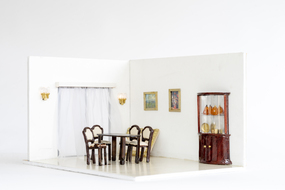 KOJIMA Miyu Final home (2019) Photo: KATO Hajime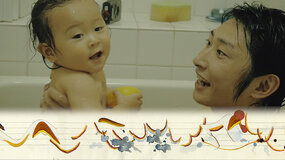 KOBAYASHI Saori Film Uta no Hajimari pictorial subtitles (2019) *Reference image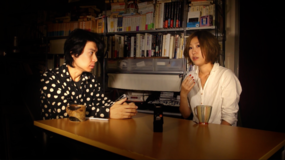 MOMOSE Aya An Interview with Mr. Kinoshita: Detaching the Voice (2013)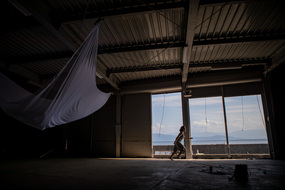 YAMASAKI Ami jimaku_Ibuki (Setouchi Triennale 2019) *Reference image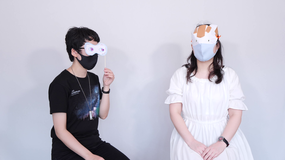 YAMAMOTO Takayuki The Nightmare Continues (2020)


* In addition to the following related events, reading event is planned. Details will be announced later.
Related Event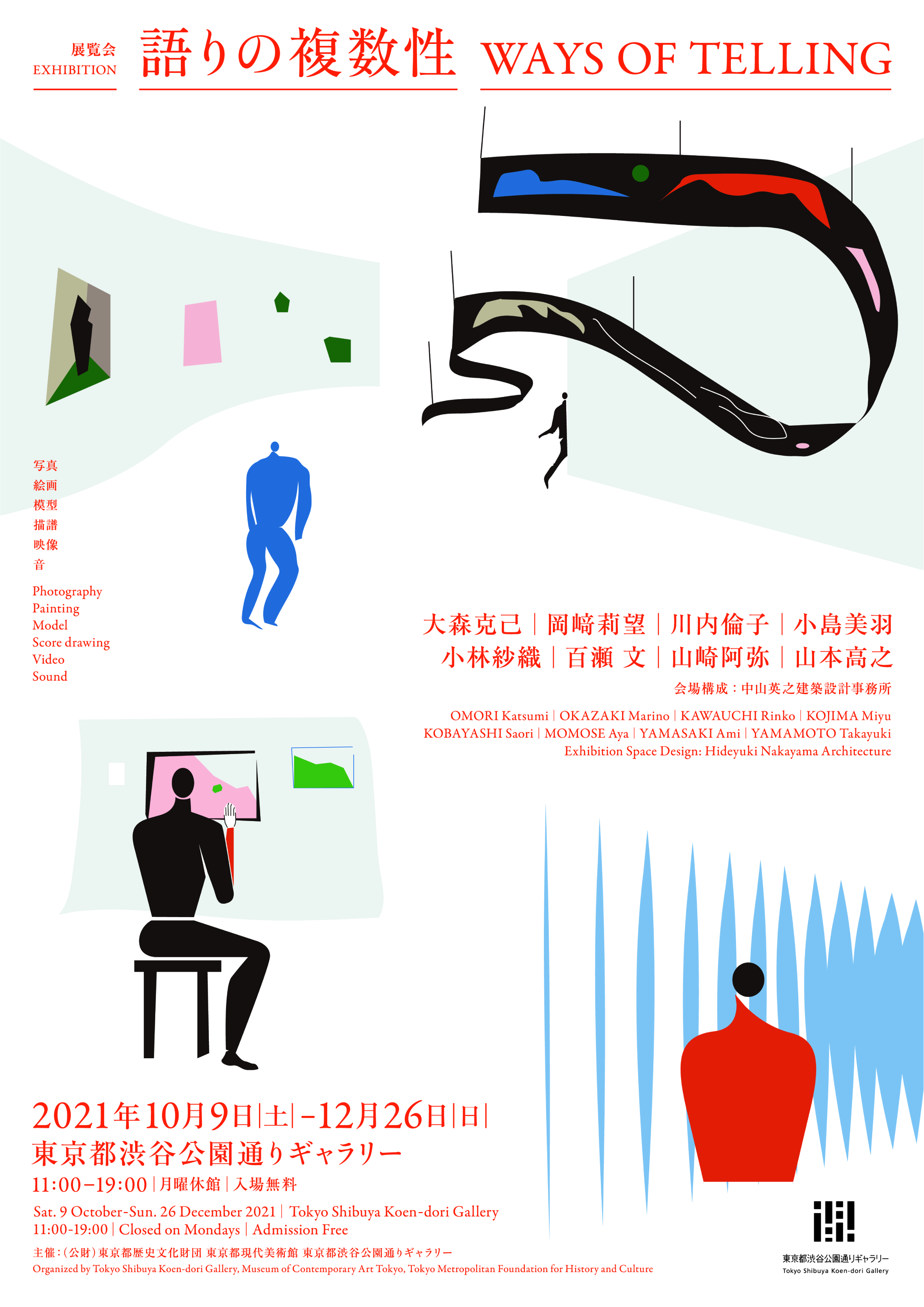 Related event "Ways of Telling"
Pre-talk
Period

From Thursday, 30 September, 2021

Venue

Online streaming

Admission

Free
Talks / Symposiums
Sign-interpreting provided
Speech-to-text service provided
Online
In the pre-talk, the curator of this exhibition and Hideyuki Nakayama, who was in charge of the exhibition space design, talk about the beginning of "WAYS OF TELLING" and the exhibiting artists.

*Sign language interpretation by Deaf and barrier-free Japanese subtitles available.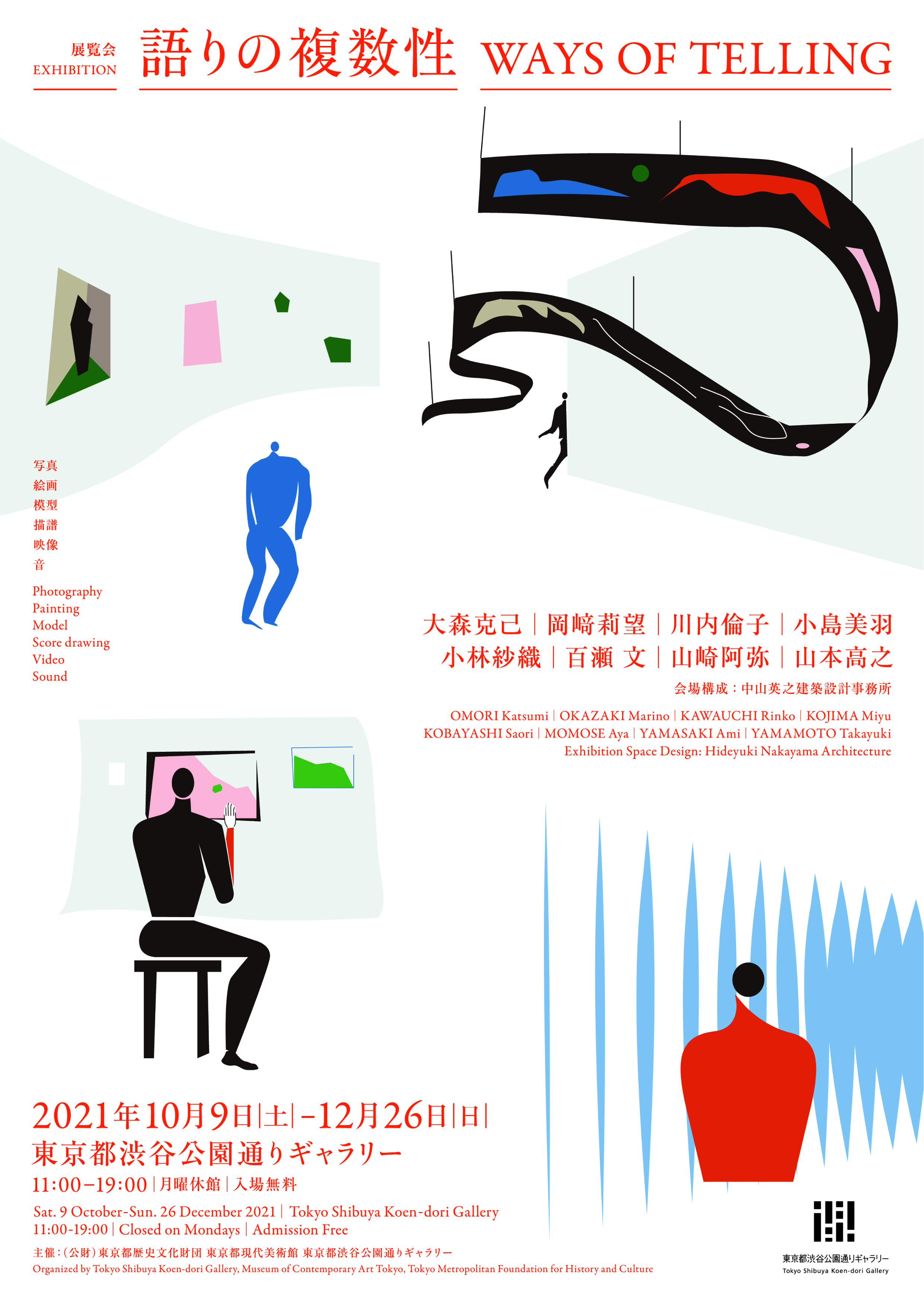 Related Events "Ways of Telling"
Curator's Gallery Talk
Period

Sunday, 10 October 2021, 14:00- (about 30 minutes)
Sunday, 21 November 2021, 14:00- (about 30 minutes)
*This event will also be held in December.

Venue

Tokyo Shibuya Koen-dori Gallery

Admission

Free
Talks / Symposiums
Gallery 1 & 2
Interactive Space
Sign-interpreting provided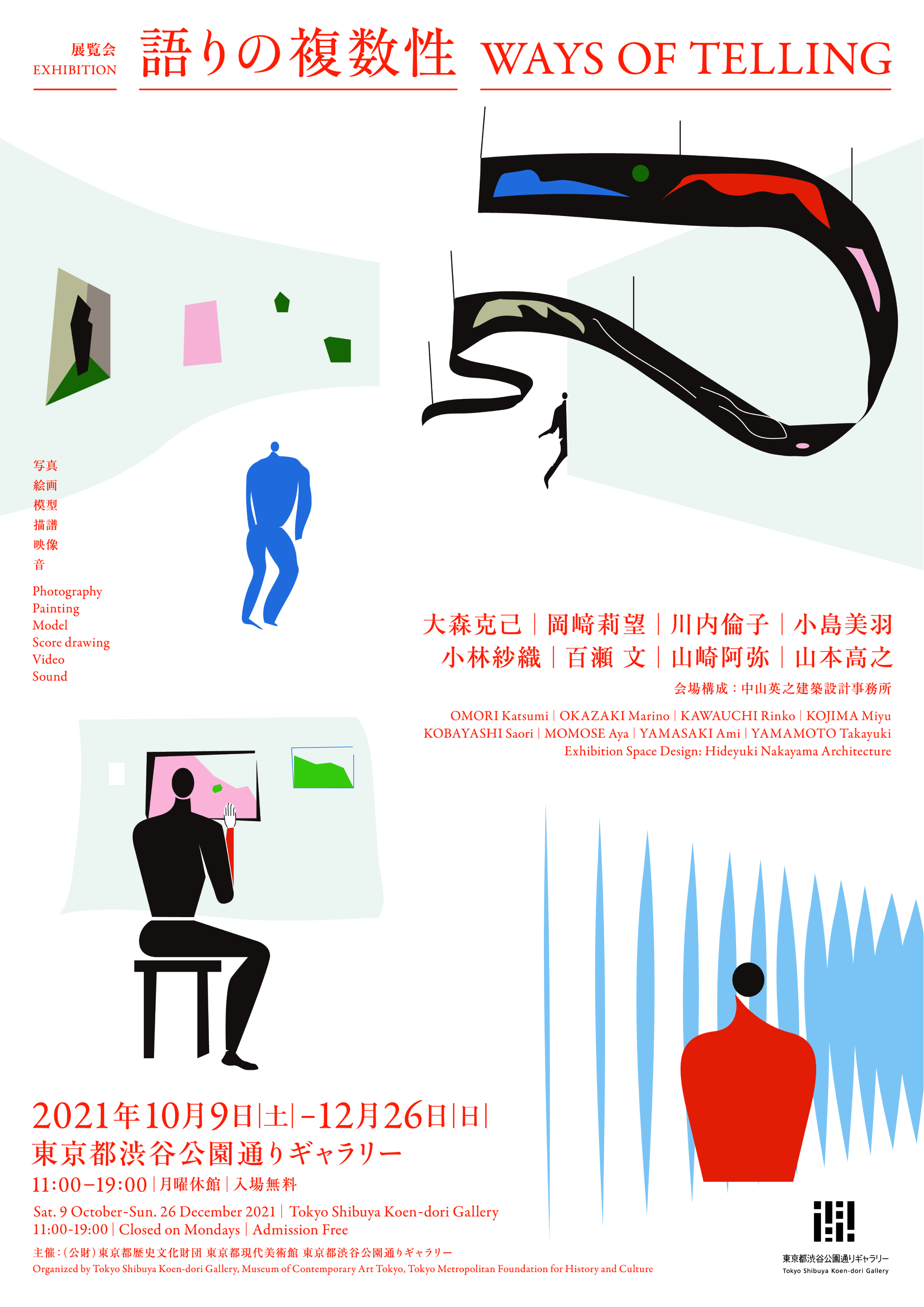 Related event "Ways of Telling"
Occasional performances
Period

Saturday, 23 October 2021

Venue

Tokyo Shibuya Koen-dori Gallery, Gallery1

Admission

Free
From 16:00 to 18:00 on Saturday, 23 October, exhibiting artist YAMASAKI Ami will be at the gallery to give occasional voice performances.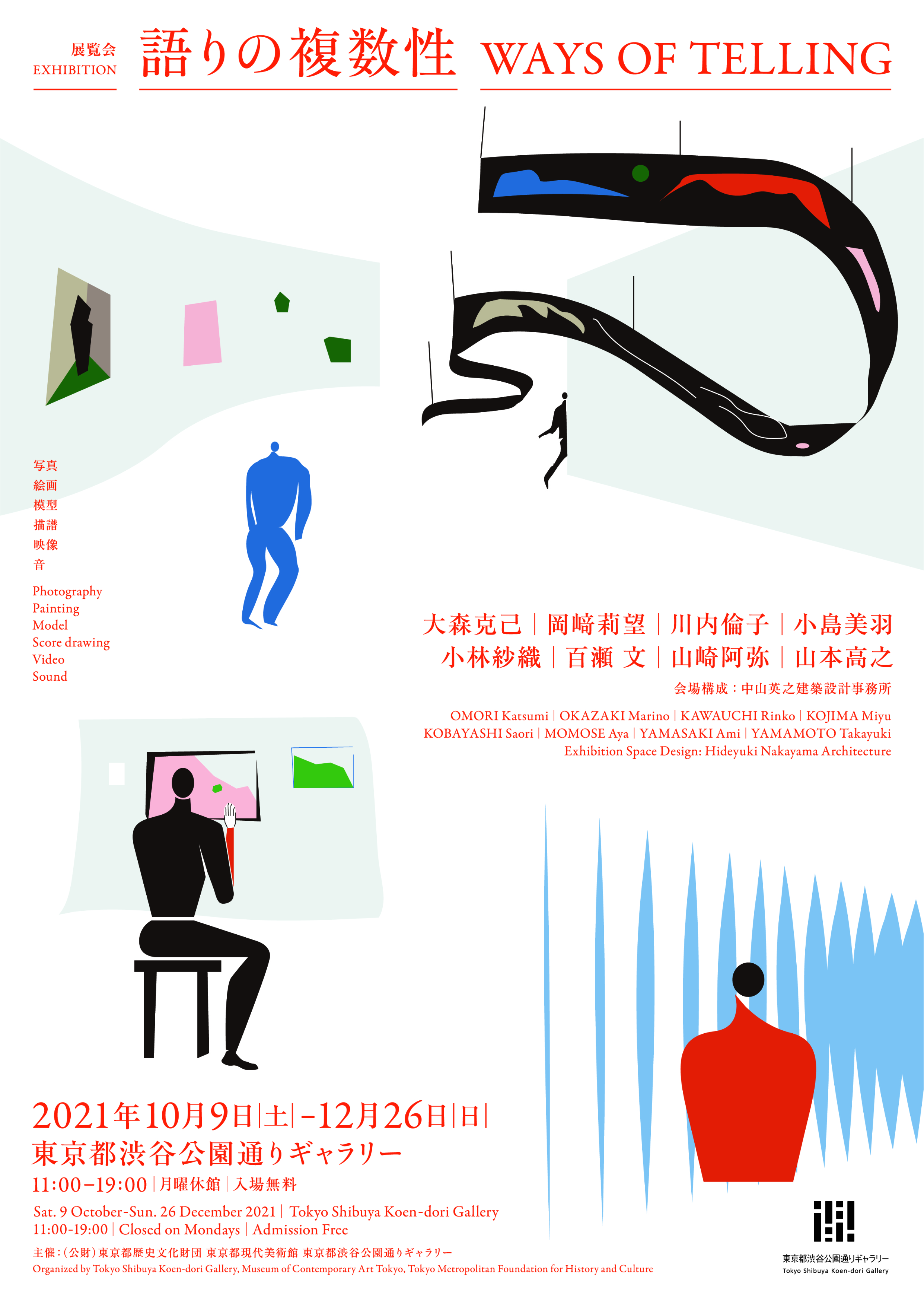 Related Event "Ways of Telling"
Artists' Talk
Period

Details will be announced later.

Venue

Online streaming

Admission

Free
Talks / Symposiums
Online
The artists talk about their works and creative processes.